SportsNation Blog Archives

Kyle Orton
Tim Tebow may have fallen way down the depth chart for the Denver Broncos, but for fans on Monday night, he was No. 1 in their hearts. Broncos players are starting to get irritated over the debate between Tebow and Kyle Orton (and, nominally, Brady Quinn, although we doubt anyone's taking him seriously as an option. Still, No. 2 on the depth chart!), and it looks like Denver has a legitimate quarterback controversy on its hands.
Vote: Where will Tim Tebow have the brightest future?
"Orton didn't do entirely bad. You can't blame too much on him when the running game could only produce 38 yards of offense. No-gain Moreno was terrible. McFadden saved us late in the game and Janikowski's bomb of a field goal kept us ahead." -- SN commenter rvidaurr
"No one debates Kyle Orton as a top 10 quarterback, but honestly, Tom Brady couldn't have won that game. The offense line play was horrid and Denver straight out abandoned the running game" -- SN commenter blingmojo27
---
Who should start for the Broncos?
The options are as follows: Kyle Orton, Brady Quinn, Tim Tebow. Orton has the experience, Tebow the pedigree. Quinn is an unknown factor.

We're still more than a month away from the Broncos and Raiders wrapping up a Monday Night Football doubleheader in Week 1 of the NFL regular season, but some reports suggest Tim Tebow is already in danger of losing the starting job -- the same job that all those Kyle Orton trade rumors seemed to suggest was Tebow's to lose.
"There are maybe a half dozen QBs in the league that can win with the worst defense ever. None of them are named Tebow or Orton. Fix the defense and shut up about which mediocre-at-best QB should start." -- SN commenter sterlina
---
The answer or the problem?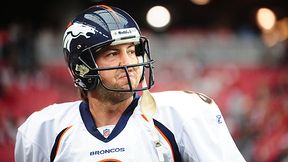 Reports suggest Orton has been winning first-team snaps in practice. Should the Broncos just go with the veteran who tossed 20 touchdowns last season?

---
Does it matter who plays?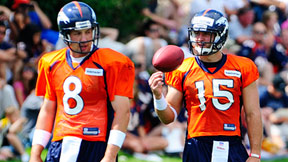 Presumably the argument for Orton centers on giving the team a better chance to win now than a young player with a learning curve. But is "win now" a relative term for the Broncos?

---
What about the big picture?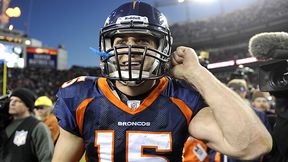 Maybe Tebow wins the job to start this season. Maybe he doesn't. But if we're looking years down the road, how optimistic are you about his future?

---
Best chance to beat Heisman jinx?
Cam Newton and Tim Tebow were unstoppable in college, but they're getting started on trying to be more like Sam Bradford than Danny Wuerffel in translating Heisman success to NFL glory.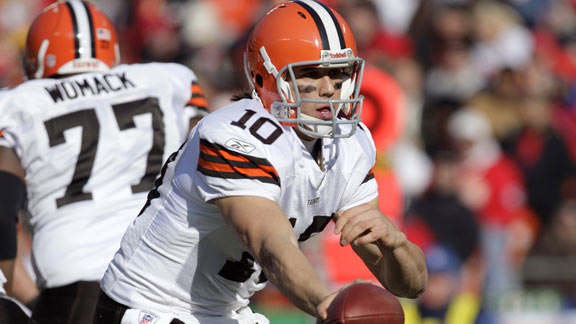 Not many people can pull off a neck beard and successfully play quarterback in the National Football League. Actually, let's reword that: Not many people can pull off a neck beard, period. As Dr. Aaron Perlut (a friend of SportsNation) would put it, beards are compromises for those not committed enough to wearing a mustache.
Obviously, Dr. Perlut has never met Kyle Orton. He's been able to do both quite well in the past year, heading a surprisingly competitive Broncos squad and rocking a thick and extensive beard. The Broncos don't seem to be totally confident in him, however, as they've acquired clean-shaven Brady Quinn as a backup plan. Sure, Orton is starting now, but how long will that last? For certain, he can sympathize with Marion Barber (soul patch), Flozell Adams (mustache/beard combo) and Matt Leinart (stubble). One day, you've got a starting position and a full beard -- the next, nothing. At least Orton can take solace in the fact that SportsNation sees him as the starter for the majority of the Broncos' games this season. Is that the right choice?
"

Look Orton wasn't the total problem with this team, his numbers speaks for themselves...had the running game been a lil better and the D played a lil better no one would have questioned Orton ability...I think his arm decent to throw downfield had McDaniels allowed him too (see Redskins game to Marshall). Quinn is only an upgrade of Simms who stunk and looked terrified to be out there.

"

-- lbmore33
"

Do it. Jones starting, Barber closing. ...don't forget to use Choice.

"

-- blueliner2k3
"

Flozell is a cheap-shot tackle who only gets by on his garbage tricks. He cannot handle the better ends in the league. You will not win with his blocking.

"

-- sauce1977
Should we offer a moment of silence for fantasy football owners coming to the realization that Saints safety Darren Sharper has scored more touchdowns this season than Steven Jackson, Brandon Jacobs or Anquan Boldin?
The Saints are just outside the top 10 in total defense at the moment, which is kind of remarkable when you think about how often their opponents have the whole field to work with after yet another Saints touchdown and yet another Saints kickoff. Sharper may not be the sole reason for the success, given that he shares the field with guys like Charles Grant and Jonathan Vilma, but as a newcomer with a league-best six interceptions and three touchdowns, he's becoming the face of it.
When push comes to shove, 67 percent of SportsNation prefers a great defense to a great offense. But are you ready to give a guy like Sharper MVP consideration?
It's always easier to solve a problem if you start with what you know. And we know Adrian McPherson and Stefan LeFors are not the best quarterbacks selected in the 2005 draft. They may be better options at the position than JaMarcus Russell, but that's an entirely different problem.
Alex Smith's return to the starting lineup, on the heels of a quality relief appearance against the Texans, brings the class of 2005 back into focus. From surprise MVP candidates (Kyle Orton), big-money acquisitions (Matt Cassel) and the guy who pushed Brett Favre out of Green Bay (Aaron Rodgers) to a couple of guys fighting for starting snaps (Derek Anderson and Jason Campbell), it's not quite the class of 1983 but it's an interesting bunch.
After Smith lost out to Shaun Hill in the preseason, only 19 percent of SportsNation thought he would ever be a full-time NFL starter.
Sam (San Francisco, CA)
Thoughts on Alex Smith being named the Niners starter?
Gary Horton

I was really happy yesterday to see Smith get another chance. I really like him. Not only as a player, but people around him think highly of him and how he's handled the situation. The 49ers are last in the NFL for throwing to their WRs. For the most part, this passing game has been to RBs and TEs. That makes it easy to defend. Smith has the bigger arm than Shaun Hill. They now have Crabtree on the perimeter and they have the ability to really stretch the defense with Smith's arm strength and that opens up the run game. He's had a lot of time to study defenses and work on his weaknesses and I would like to think that this is not only a real positive for Smith but that it really opens up the 49ers offense. Full transcript.