SportsNation Blog Archives

Jeff Garcia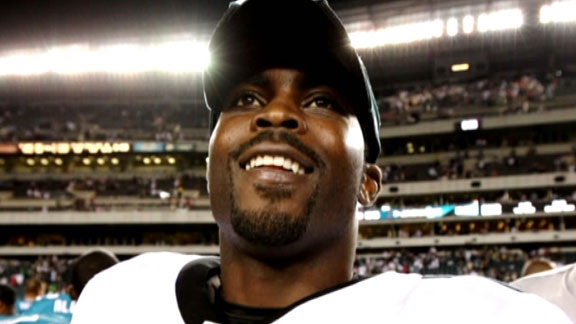 This past spring, SportsNation rated Jeff Garcia ahead of the following NFL quarterbacks: Jason Campbell, David Garrard, Trent Edwards, Matt Schaub, Brady Quinn, Kyle Orton, Shaun Hill, JaMarcus Russell, Matthew Stafford and Mark Sanchez. So why is Garcia the one who has to worry whether he'll be in his current place of residence long enough to buy milk?
The Eagles continued their 2002 Pro Bowlers reunion by adding Garcia this week (Travis Henry is going to make it really difficult to collect the complete set). A hefty 73 percent of SportsNation thought the Panthers would be better off with Garcia than Jake Delhomme (or presumably Eagles castoff A.J. Feeley), but when it comes to the Eagles, a majority of voters thinks Michael Vick would be a better long-term substitute for Donovan McNabb.
"

M Vick was never anything more than an average at best QB. There is a reason Philly signed Garcia an above average QB. M Vick will be used in positions other than QB and Garcia will be the new back up. M Vick fans will get to see him do what he does best, run around, he just will not do it as the QB.

"

-- SFCROB1369
"

Very good pickup Eagles. Im no Garcia fan myself, but he did you very well in the past, and he's gotta be at least 100x better than Kolb and 10x better than Vick. Garcia will keep you upright till McNabb gets back.

"

-- PiccoloKu9
Some quarterback battles are worthy of Bruce Lee. Others more closely resemble Larry, Moe and Curly. But through it all, we're talking about summer entertainment. And when the other option is figuring out which punter a team will go with, we'll go with the contrived quarterback drama, thank you very much.
Browns coach Eric Mangini says he doesn't have a timetable for naming a starting quarterback. And the truth of the matter is that it probably doesn't really matter whether Mangini decides to start Derek Anderson or follows SportsNation's advice and goes with Brady Quinn when the Browns open the regular season at home against the Vikings (and their own quarterback to be named later).
Pick the right guy and maybe the Browns go 8-8. Pick the wrong guy and maybe they go 4-12 again. By December, people on the shores of Lake Erie may all be talking about Colt McCoy or Sam Bradford anyway.
But at least the Browns are choosing from two seemingly viable options, if only compared to how voters feel about the battles in Minnesota (Tarvaris Jackson and Sage Rosenfels) and San Francisco (Alex Smith and Shaun Hill).
"

Mangini will be under alot of presser. I think he goes w/ Quinn, because Mangini will get less grief is he doesn't work out compared to going with Anderson.

"

-- justsandmann
"

has this ever worked? waiting until the last minute to decide on a starting qb? they must have their reasons, but if i was a browns fan. i would want this figured out and soon..

"

-- jaredlawson