SportsNation Blog Archives

Michael Crabtree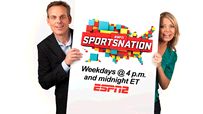 Michelle Beadle and Colin Cowherd don't need a marker to hit long "SportsNation" TV field goals.
Argue the hot topics of the day and vote on the biggest stories from the world of sports. The show airs on ESPN2 at 4 p.m. and midnight ET.
Note: Broadcast voting results as of this afternoon (ET).
How has the umpiring affected your opinion of instant replay?
Dale Scott and Tim McClelland made calls Tuesday that clearly were wrong in television replay. They aren't the first or only mistakes this postseason.
Do you have a problem with Manny showering as the Dodgers lost?
Ramirez told reporters he went into the clubhouse after he was pulled from the lineup and did not see the play that ended Game 4 of the NLCS.
Should Titans fans be offended by Jeff Fisher wearing a Manning jersey?
Fisher wore the Peyton jersey at a charity event for Rocketown at Lipscomb University in Nashville with former Colts coach Tony Dungy.
Which WR will have the better season?
Rookie Michael Crabtree could get his first start with the 49ers this week. Veteran T.O. hasn't been getting many touches in Buffalo's anemic offense.
What is "SportsNation" TV, and how do you make your voice heard? Read about the new ESPN show that features fan opinions with calls, tweets, polls, rankers and more.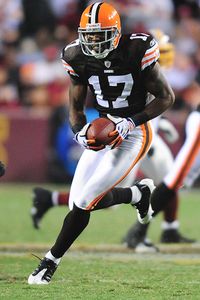 Braylon Edwards allegedly decks one of LeBron James' friends and gets traded to the Jets. Michael Crabtree, with Hammer along for the ride, finally signs with the 49ers a month into the regular season. Likely first-round pick Dez Bryant is ruled ineligible for the rest of the season at Oklahoma State for violating NCAA bylaws.
And all of this in a week when Chad Ochocinco and Terrell Owens have been quiet.
The point? It's not difficult to find wide receivers capable of making headlines. Getting the guys who make plays consistently is a bit more challenging.
Scouts Inc. has put together a list of the best wide receivers in the game, but with Owens fading and Marvin Harrison gone, what are we to make of the current crop of receivers? Have Larry Fitzgerald and Andre Johnson taken over at the top?