SportsNation Blog Archives

Brian Cushing
Brian Cushing signs big extension
The Houston Texans' defensive core solidified quite a bit Tuesday. That's because the franchise, fresh off a 12-4 season and with eyes on bigger things, inked star linebacker Brian Cushing to a six-year, $55.643 million extension, with $21 million guaranteed. It's being hailed as a good move for a team whose defense struggled at times after Cushing went down with an ACL injury early last season. Then again, that very injury could slow the 26-year-old going forward.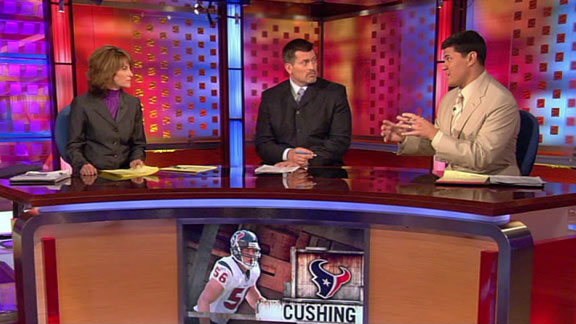 We like to look for the silver linings in sports, even if it's occasionally the P90X of eye workouts. So sure, Houston Texans linebacker Brian Cushing won the AP Defensive Rookie of the Year award despite having violated the NFL steroid policy in September, unbeknownst to voters. That's, well, not good. But focus on the positive! Now you don't have to live in Buffalo to know who Jairus Byrd is.
Byrd, a safety for the Bills, finished second in the voting the first time and stands to pick up more votes, and perhaps the award itself, now that the AP is voting again. But as AFC South blogger Paul Kuharsky poses the question, does this start us down a slippery slope?
"Let's say an offensive player of the year is a running back and some of his linemen tested positive. Maybe there's a quarterback who is protected by that line or registers some of his numbers by throwing to an enhanced receiver. Maybe there are defensive tackles who keep an MVP middle linebacker clear to make plays but who are later found to have used performance enhancers. "Would each of those awards rate as tainted and would the second-place finisher have a beef?" -- Read Kuharsky's full post on Cushing.
"

So the rookie of the year used roids DURING his rookie year, but he gets to keep the award? I guess cheaters really do prosper. Ah yes, but he won't be able to go to the pro bowl, THAT's gonna teach him...

"

-- gravyboat63
"

Roids aren't like baseball where you stop hitting homers. Cush is a predator who tracks down runners and deflects/intercepts passes like a defensive back. He didn't lead the team in INTs from any damn steroids. If he was using them to get over injury then he'll need to get tougher.

"

-- sgbtexan