SportsNation Blog Archives

Columbus Blue Jackets
Welcome to LeBron James Free Agent Frenzy 2.0. Yes, the two-time NBA champion and four-time league MVP has opted out of his contract with the Miami Heat, making him available to effectively everyone.
Naturally, everyone is interested. And we don't just mean NBA teams.
Sure, fans of all Association teams are dreaming of LeBron in their colors ...
Mad Libs: LeBron taking his talents to (insert city name). pic.twitter.com/jRUJnAKS0A

— Jeff D Lowe (@JeffDLowe) June 24, 2014
... but some interesting proposals hit the Internet from all sorts of teams and institutions.
Naturally, the former football player generated some NFL interest:
Hey @KingJames! Need to pass time while making a decision? Training camp starts in about a month! No dunking though. pic.twitter.com/WGoXcsOrGc

— NFL (@nfl) June 24, 2014
Hey @KingJames, we're thinking the same thing... pic.twitter.com/gA4JUlSBtD

— Dallas Cowboys (@dallascowboys) June 24, 2014
Meanwhile, some hockey teams also expressed interest (extra points to the Blue Jackets for the subtlety of their pitch).
.@KingJames You know, you'd be 6'10" on skates... #justsaying

— Carolina Hurricanes (@NHLCanes) June 24, 2014
We hear @KingJames is looking for a new team. Do you think he'd consider hockey? @NHL #stlblues pic.twitter.com/kPg8RQwJLy

— St. Louis Blues (@StLouisBlues) June 24, 2014
.@KingJames follow for DM

— NHL Blue Jackets (@BlueJacketsNHL) June 24, 2014
Also vying for LeBron's services: the Denver Outlaws of Major League Lacrosse, the United States' rugby sevens team and perhaps the most popular unit in all of America right now:
Hey @KingJames! Heard you're looking for a new team?? We've got your jersey ready! #WePlayToWin pic.twitter.com/nrFCVjZys2

— Denver Outlaws (@DenverOutlaws) June 24, 2014
Hey @KingJames, heard you're looking for a new team, cant help but think you'd look good playing #Rugby for #USA7s pic.twitter.com/mk6bP54d2L

— USA Sevens Rugby (@USASevensRugby) June 24, 2014
Hey @KingJames! Heard you're opting out?? We've got a new team for you: The #USMNT! #LetsDoThis #OneNationOneTeam pic.twitter.com/I4Uj7O4b1x

— U.S. Soccer (@ussoccer) June 24, 2014
Let's not forget the Brazos Valley Bombers, a summer collegiate baseball team that -- wait. We don't remember including your team in our SportsNation poll!
We think @KingJames would look good in Bomber blue. pic.twitter.com/Aeu3HhdnIU

— bv_bombers (@bv_bombers) June 24, 2014
Finally, Major League Soccer showed an undeniable appreciation for King James -- but not the one you're thinking of. That would be James Rodriguez, aka James, a Colombian midfielder who has sparked his side to three straight wins in the 2014 World Cup.
Forget Miami, King James plays for #COL: http://t.co/SmAFFnWt4m pic.twitter.com/zSUq5T3ck1

— Major League Soccer (@MLS) June 25, 2014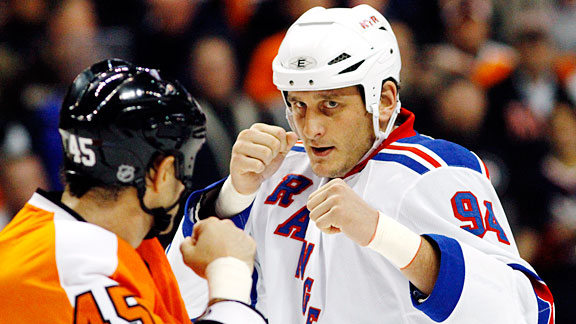 The old joke, "I went to a fight and a hockey game broke out!" isn't going over as well anymore. In fact, a young hockey fan might not even get it. Maple Leafs general manager Brian Burke certainly isn't laughing. The former head disciplinarian for the NHL is upset that fighting is down and suspensions are up. He thinks self-policing is the way to go. Agree?
t0astr0ven: "Keep fighting in hockey just the way it is. It's the last sport where the players stick up for each other. Football, basketball, baseball, and just about every other sport - players only look for penalties. If they don't get it, they (players, teammates, coaches) whine at the press conference and the media blows it up."
InniAudi: "More fights in hockey = More fights in the stands and around the stadium after the game. Why do we need to promote fighting in any sport?"
fredBBigg: "How many fights was Gretzky in? Any? Why was that? Was it because he had goons protecting him? No. It was because every guy in the league knew he was their meal ticket and left him alone. That proves that violence isn't necessary, that players can restrain themselves, hockey can be a game of skill, and people will come to watch skilled players."
bigblue212542: "He's not trying to promote fighting as much as he seems concerned that there is no accountability for cheap shots anymore. Fighting might not be ideal for the future of hockey, but it kept goons from potentially knocking stars out for a period of time - or at least having to answer for it when they did."

Join more fan posts. Or respond by signing in or creating a profile, and start blogging.
---
A change for the better?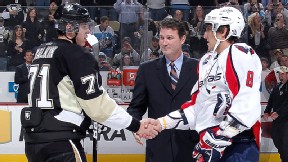 Hockey is evolving and the speedy skaters with abundant skill are pushing out the intimidating enforcers with fists clenched. Is this a good thing?

---
Last of the breed?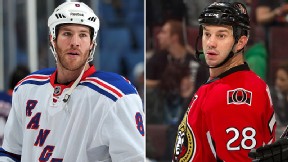 Brandon Prust and Zenon Konopka are tied with 11 fighting majors each which leads the league. Does that make either the best enforcer in the game?

---
More fights means less punishment?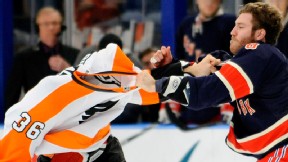 The NHL has been busy lately handing out suspensions for cheap shots. Burke believes making players back up their actions would cut down on punishable acts.

We can understand if you don't want to take the time to grade your tech-support help on the other end of the telephone, but when we're talking about the dollars and emotion you've invested in sports, we think it's worth the effort. It's time for ESPN The Magazine's Ultimate Standings, in which SportsNation grades organizations on everything from ticket prices and stadium experience to the talent on the field, court or rink. Which team will end up on top this year? It depends on what you say.
Take part in the 2011 MLB survey
2010 MLB Ultimate Standings
1. Los Angeles Angels (Overall: No. 3)
2. Tampa Bay Rays (Overall: No. 6)
3. Colorado Rockies (Overall: No. 13)
4. Minnesota Twins (Overall: No. 14)
5. Atlanta Braves (Overall: No. 15)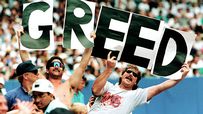 Take part in the 2011 NFL survey
2010 NFL Ultimate Standings
1. New Orleans Saints (Overall: No. 1)
2. Indianapolis Colts (Overall: No. 4)
3. Green Bay Packers (Overall: No. 9)
4. Arizona Cardinals (Overall: No. 19)
5. Baltimore Ravens (Overall: No. 20)
Take part in the 2011 NBA survey
2010 NBA Ultimate Standings
1. Orlando Magic (Overall: No. 2)
2. San Antonio Spurs (Overall: No. 7)
3. Cleveland Cavaliers (Overall: No. 10)
4. Dallas Mavericks (Overall: No. 24)
5. Oklahoma City Thunder (Overall: No. 25)
Take part in the 2011 NHL survey
2010 NHL Ultimate Standings
1. Pittsburgh Penguins (Overall: No. 5)
2. Detroit Red Wings (Overall: No. 8)
3. Washington Capitals (Overall: No. 11)
4. San Jose Sharks (Overall: No. 12)
5. Chicago Blackhawks (Overall: No. 16)