SportsNation Blog Archives

Clay Matthews
Clay Matthews doesn't have a lengthy history of late hits, but his out-of-bounds tackle on Colin Kaepernick on Sunday had 49ers coach Jim Harbaugh accusing him of being dirty. Matthews denied that criticism in a locker room interview on Wednesday, but then went one farther. He's not a ''dirty player'', said Matthews; he's an ''awesome'' one. Matthews' talent is undeniable, but is he treating this too lightly?
Here's a sampling of what readers had to say in our Facebook conversation on the story:
Brian Lynch: "He forgot to mention that he's humble too."
Chad Berlin: "To me, it was clearly a dirty play, and it's hard to make the argument that he wasn't trying to hurt Kaepernick. Maybe not ruin his career or anything like that, but at the very least trying to knock him out of the game."
Daniel Shuler: "In his defense, he left his feet before Kaep was out of bounds, but like he said, it still wasn't a smart play. Playing at the speed those players play at, it doesn't take much to go from a great play to a bad/"dirty" play."
Lili Crefelts: "if he left his feet before he was out of bounds, then he improvised the angle of the trajectory and knew where he was going to be hitting him.. if he intended on hitting him in bounds before he jumped into the air, he would have flown threw the air only to make contact with the ground at the end."
Eli Bierwag: "'I am not a dirty player.' - Mantra of every dirty player"
What do you think? Leave your comments below.
One down, one to go. The Green Bay Packers locked up one of their key players long term, as middle linebacker Clay Matthews signed a five-year contract extension that will reportedly pay him more than $13 million annually. Matthews' new deal includes $31 million of guaranteed money and keeps the four-time Pro Bowler in Green Bay for his prime years. With Matthews' contract situation cleared up, the Packers can now focus on quarterback Aaron Rodgers, who's also looking for a big money deal. If Matthews is worth $13 million a year, how much is the former NFL MVP worth?
---
Leader of the Pack
Clay Matthews will reportedly be the highest-paid linebacker in NFL history. Is he worth it?

---
Discount Double Check?
Clay Matthews got paid big bucks. So did the Ravens' Joe Flacco. So how many zeros will be on quarterback Aaron Rodgers' next contract?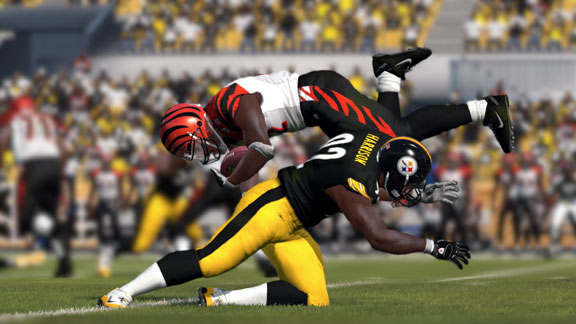 Madden ratings are often the most contentious topics in sports video games. Should Michael Vick have a 99 in agility? Which wide receiver gets top marks for speed? Is my team's linebacker tougher than your team's? All week long, SportsNation is ranking the players with the top marks at each position. Today, we're taking a look at the best linebackers in Madden 2012. James Harrison, DeMarcus Ware, and Patrick Willis all have 98 ratings, but are they Madden's best? Cast your vote now!
"Patrick Willis should def be the best linebacker in this game. He's the cornerstone of the 49ers and he's just getting into his prime. Dude should be a 99 overall" -- SN commenter CardiacCats85
"Demarcus Ware = Overrated. He is a pass rushing specialist that's all. James Harrison is better then him. Ware just got hyped for his pass rushing ability." -- SN commenter Lions20AkP
"How is Clay Matthews not higher than a 95? Should be 98 instead." -- SN commenter AELawrence80