SportsNation Blog Archives

San Jose Sharks
In the NBA, "gone fishin'" is a bad thing.
In hockey, it's a conduit for awesomeness. Case-in-point: the maritime adventures of Pittsburgh Penguins star center Evgeni Malkin, who recently took to the sea and snagged a pair of quite sizable fish:
Then Malkin decided to go diving ...
... where he found WHOA WATCH OUT EVGENI IT'S HUGE!!!!
Turns out that's just a whale shark, which is not a known danger to humans. In truth, this isn't even close Malkin's must frightening run-in with a Shark.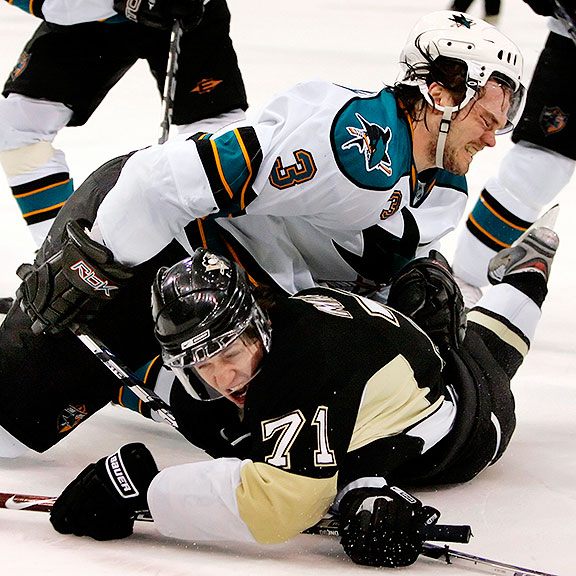 AP Photo/Gene J. Puskar
And hey, at least Malkin didn't actually ride the whale shark like this guy.
Three Game 7s in the NHL
Tonight's going to be an exciting night for hockey fans, as three of the Stanley Cup playoff series will drop the puck on their respective Game 7s. Wayne Simmonds' hat trick last night helped the Flyers force a deciding Game 7 against the Rangers, the Sharks face an interesting goaltending decision in their decisive matchup against the Kings, and the Avalanche will try to come back after a disastrous third period against the Wild in their Game 6. It's often been said that the NHL has the most intense playoff series in all of sports, and tonight's slate of games will likely show why that's true.
NHL playoff predictions?

The first round of the NHL playoffs is well underway, with some series over and others staying close to the end. What are your predictions?

Game 7s in the NHL

The NHL playoffs have featured a fair number of Game 7s this season, with two more this week heading into the Western Conference finals. The Sharks take on the Kings in Los Angeles after forcing a Game 7, while the Blackhawks edged out a win in Detroit to take the Red Wings to the brink. Which teams will prevail? Has the NHL's postseason been better than the NBA's?