SportsNation Blog Archives

Phoenix Coyotes
---
Which team wins?
The Kings took care of the Blues in four games, while the Coyotes needed a mere five contests to knock off the Predators.

---
Vermette or Brown?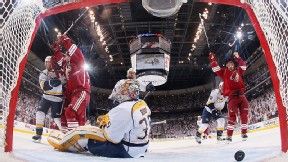 Antoine Vermette had a quiet semis after a hot quarterfinals, while Dustin Brown's two goals in the finale were key in L.A.'s win over St. Louis.

---
Smith or Quick?
Mike Smith and Jonathan Quick sported near-identical save percentages in the semifinals.

---
Tippett or Sutter?
Both Dave Tippett and Darryl Sutter are looking for their first Stanley Cup titles.

---
A future in Phoenix?
The Coyotes are close to an official sale, but that doesn't necessarily mean they'll make a permanent home out of Phoenix.

It seems that we can't go one game without a scary, controversial hit in the Stanley Cup playoffs. Marian Hossa was the recipient of one such hit from Marian Hossa on Tuesday night -- a hit so painful that it sent him to the hospital, although he was released Wednesday. Hitting has been a part of hockey for ages, but with the recent spate of crushing hits in high-profile games, might there be a change in the sport's future?
---
Dirty or clean?
Raffi Torres expressed sympathy for Marian Hossa after hitting him but maintained the hit was clean.

---
A fan of hitting?
This year's Stanley Cup playoffs have been full of crushing hits and brutal fights.

---
Sufficient approach?
The NHL has made player safety a priority in recent years. Is the league doing enough, or are its new rules stifling the game?

Tags:

NHL, Chicago Blackhawks, Phoenix Coyotes, Marian Hossa, Raffi Torres