SportsNation Blog Archives

Phoenix Coyotes
---
Which team wins?
The Kings took care of the Blues in four games, while the Coyotes needed a mere five contests to knock off the Predators.

---
Vermette or Brown?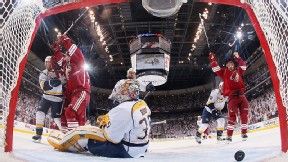 Antoine Vermette had a quiet semis after a hot quarterfinals, while Dustin Brown's two goals in the finale were key in L.A.'s win over St. Louis.

---
Smith or Quick?
Mike Smith and Jonathan Quick sported near-identical save percentages in the semifinals.

---
Tippett or Sutter?
Both Dave Tippett and Darryl Sutter are looking for their first Stanley Cup titles.

---
A future in Phoenix?
The Coyotes are close to an official sale, but that doesn't necessarily mean they'll make a permanent home out of Phoenix.

It seems that we can't go one game without a scary, controversial hit in the Stanley Cup playoffs. Marian Hossa was the recipient of one such hit from Marian Hossa on Tuesday night -- a hit so painful that it sent him to the hospital, although he was released Wednesday. Hitting has been a part of hockey for ages, but with the recent spate of crushing hits in high-profile games, might there be a change in the sport's future?
---
Dirty or clean?
Raffi Torres expressed sympathy for Marian Hossa after hitting him but maintained the hit was clean.

---
A fan of hitting?
This year's Stanley Cup playoffs have been full of crushing hits and brutal fights.

---
Sufficient approach?
The NHL has made player safety a priority in recent years. Is the league doing enough, or are its new rules stifling the game?

We can understand if you don't want to take the time to grade your tech-support help on the other end of the telephone, but when we're talking about the dollars and emotion you've invested in sports, we think it's worth the effort. It's time for ESPN The Magazine's Ultimate Standings, in which SportsNation grades organizations on everything from ticket prices and stadium experience to the talent on the field, court or rink. Which team will end up on top this year? It depends on what you say.
Take part in the 2011 MLB survey
2010 MLB Ultimate Standings
1. Los Angeles Angels (Overall: No. 3)
2. Tampa Bay Rays (Overall: No. 6)
3. Colorado Rockies (Overall: No. 13)
4. Minnesota Twins (Overall: No. 14)
5. Atlanta Braves (Overall: No. 15)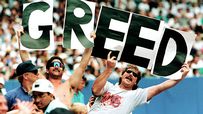 Take part in the 2011 NFL survey
2010 NFL Ultimate Standings
1. New Orleans Saints (Overall: No. 1)
2. Indianapolis Colts (Overall: No. 4)
3. Green Bay Packers (Overall: No. 9)
4. Arizona Cardinals (Overall: No. 19)
5. Baltimore Ravens (Overall: No. 20)
Take part in the 2011 NBA survey
2010 NBA Ultimate Standings
1. Orlando Magic (Overall: No. 2)
2. San Antonio Spurs (Overall: No. 7)
3. Cleveland Cavaliers (Overall: No. 10)
4. Dallas Mavericks (Overall: No. 24)
5. Oklahoma City Thunder (Overall: No. 25)
Take part in the 2011 NHL survey
2010 NHL Ultimate Standings
1. Pittsburgh Penguins (Overall: No. 5)
2. Detroit Red Wings (Overall: No. 8)
3. Washington Capitals (Overall: No. 11)
4. San Jose Sharks (Overall: No. 12)
5. Chicago Blackhawks (Overall: No. 16)
What says postseason hockey like Phoenix and the Potomac? All right, maybe the Game 7 settings are slightly off, especially considering teams from traditional hockey holy sites Detroit and Montreal are involved, but we've got a pair of decisive games to savor in the span of 24 hours. Tuesday night brings the Red Wings visiting the Coyotes, and the Canadiens take on the Capitals a night later.
Given how littered the NHL's postseason history is with No. 1 and No. 2 seeds going down to defeat in the first round (you have to look all the way back to, oh, last season for the eighth-seeded Ducks knocking off the top-seeded Sharks), a loss at home by the Capitals might not be historic. But it would be a colossal collapse from a team that held a 3-1 lead against the Canadiens and further evidence that there may be no force in sports quite so powerful as a red-hot goalie, in this case Jaroslav Halak.
"

Can't believe this series is going to a 7th game. ... The Coyotes were on a mission from the start, but the short-handed goal really got things going. I'll be there, I've always wanted to go to a playoff 7th game.

"

-- LeoPolk
"

Gonna be interesting to see if the Russians show up for this one. I think the Habs will win because of Halak.

"

-- itsfeedingtime