SportsNation Blog Archives

Frank Mir
Heavyweights are the main attraction for UFC 146 in Las Vegas on Saturday night, where new UFC heavyweight champ Junior dos Santos will put his belt on the line for the first time against Frank Mir. The man dos Santos beat for the title, Cain Velasquez, is also on the card and faces a tough assignment in Antonio "Bigfoot" Silva.
---
Dos Santos vs. Mir
Junior dos Santos hopes his first UFC heavyweight title defense leads to many more. But Frank Mir is confident he can earn a quick win.

---
Velasquez vs. Silva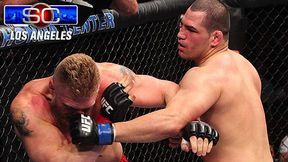 Ex-UFC heavyweight champ Cain Velasquez, right, wants to regain the heavyweight belt he lost to dos Santos. His road back starts with a tough test in Antonio "Bigfoot" Silva.

---
Nelson vs. Herman
Roy Nelson was previously scheduled to face two other fighters before drawing Dave Herman. Both heavyweights are looking to rebound from losses.

---
Miocic vs. Del Rosario
Stipe Miocic, right, and Shane Del Rosario are both undefeated. That may change Saturday.

---
Struve vs. Johnson
Stefan Struve, right, enters his heavyweight bout with Lavar Johnson on a two-fight win streak.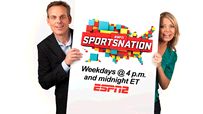 Michelle Beadle and Colin Cowherd promise to give you their undivided attention and watch U.S.-Mexico only during "SportsNation" TV commercial breaks today.
Argue the hot topics, vote on the biggest stories and chat during the show, on ESPN2 at 4 p.m. and midnight ET.
Note: Broadcast voting results as of afternoon ET.
Which fight are you more interested in watching?
Would you rather see a replay of Brock Lesnar versus Frank Mir or watch Gina Carano versus Cristiane "Cyborg" Santos live?

Have you ever sipped beer through a straw?
Maybe we should reword this question: "Are you male, and did you attend college?" And don't lie to us. Your mom won't see how you voted.

Who won Tuesday night's fight?
Kevin Youkilis gets points for the sprint, helmet toss and attempted tackle, but Rick Porcello took advantage of his momentum and ended up on top.
What do you think about Michigan's tackling dummies?
The Wolverines hit tackling dummies adorned with Ohio State stickers in practice. Is this a smart, motivational move or a dumb tactic?

Will the Rick Pitino story affect Louisville recruiting?
Pitino reportedly told police that he had consensual sex with and paid for an abortion for the woman who has been charged with trying to extort him.
What is "SportsNation" TV, and how do you make your voice heard? Read about the new ESPN show that features fan opinions with calls, tweets, polls, rankers and more.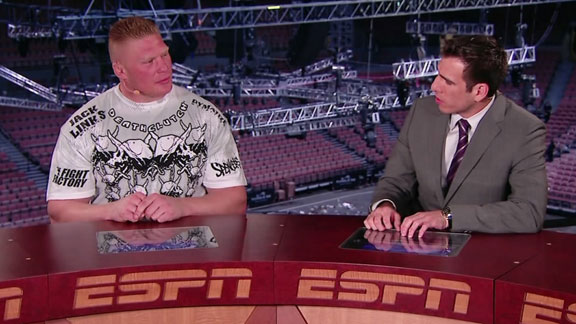 First the good news for UFC. More than half of SportsNation knows Georges St. Pierre is, in fact, a mixed martial arts fighter who fought in UFC 100 Saturday night. Voters had until recently said hockey had a brighter professional future in the United States than mixed martial arts, but St. Pierre's name recognition is a good bit better than John Tavares' was in the hours before he became the No. 1 pick in the NHL draft.
Now the not-so-good news. SportsNation isn't sure what to make of Brock Lesnar in what should be the heavyweight's moment of glory. Lesnar retained the heavyweight crown by beating -- and then taunting, WWE style -- rival Frank Mir.
Lesnar's antics drew a rebuke from UFC president Dana White, but SportsNation blogger thechris54 thinks anyone worrying about sportsmanship should just get over it. So does this help or hurt UFC gain mainstream eyeballs?
"

Dana White is the right guy to get things started, but they need to shut him up because MMA is a real sport; unlike WWE. Boxing learned it's lesson with Don King.

"

-- njhaines
"

Lesnar showed respect to Randy when they fought, but he doesn't show respect to people who don't respect him.

"

-- cubs_win78
The revolution will be televised, but will you be watching? Not so much when it comes to UFC 100 and SportsNation.
The Ultimate Fighting Championship hits the century mark this weekend in the aptly named UFC 100 (thank goodness there are no Roman numerals involved) in Las Vegas.
There's no getting around the fact that mixed martial arts are perhaps the hottest property in sports -- you don't hear Bill Simmons devoting a one-hour podcast, left, to curling ... or boxing, come to think of it. And few fan groups have more SportsNation members than
MMA
.
Yet a good chunk of SportsNation doesn't seem quite ready to bow to the Octagon. Two out of three think either traditional mainstay hockey or fellow up-and-comer soccer has a brighter professional future in the United States.
"

I hate MMA, its not a realsport and you basically have a low IQ if your into it. Yes it is real but same guy who is 30-40 that likes MMA is also a WWE fan, get a life. Atleast boxing takes skills. This is stuff is like wrestling around with your buddies in college with punching, thats not entertaining or skillful. Boxing is a skill. MMA is for brainless tools

"

-- osubeavs721
"

WOW! What a surprise! MMA on the front page of ESPN! Hopefully the "powers that be" will finally give the fastest growing sport in America (the world?) the coverage it deserves!

"

-- seeg103