SportsNation Blog Archives

Paulo Thiago
---
Silva vs. Gustafsson
Alexander Gustafsson and Thiago Silva make their living primarily as strikers, although Brett Okamoto thinks this match could be decided on the ground.

---
Stann vs. Sakara
Alessio Sakara is making his comeback in this match after being sidelined for a year. Brian Stann is looking to get back on track after a loss to Chael Sonnen

---
Thiago vs. Bahadurzada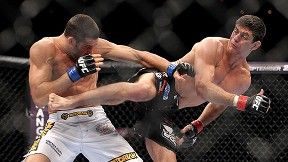 Both Paulo Thiago and Siyar Bahadurzada are coming off wins, although Bahadurzada hasn't fought since mid-May of last year.

---
Siver vs.Nunes
Dennis Siver lost by submission to Donald Cerrone in his last matchup, while Diego Nunes managed a decision over Manvel Gamburyan.

---
Page vs. Pickett
Brad Pickett and Damacio Page will be fighting to reverse bad trends -- Pickett lost his last match to Renan Barao, while Page is on a two-match losing streak.