SportsNation Blog Archives

Venus Williams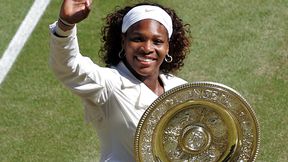 Just as SportsNation predicted, a Williams sister has won the Wimbledon final. The only problem is that you picked the wrong sister. It was Serena Williams this time, not Venus, who snagged her third Wimbledon title in straight sets.
What did you think of the women's final? Were you shocked by the poor finals performance by Venus? Is Serena once again the most dominant player in the game? Discuss your thoughts below.
"

Anyone who's ever played anything competitively against a sibling knows they don't throw the game. I would NEVER let my sister win on purpose. Heck, I don't even let my wife win anything; she has to earn it.

"

-- fatjedi19
"

I heart Venus, but Serena is easy to root for 'cause no one competes better under pressure than she does. Great tournament for Venus as she decimated the faux-No. 1 in the semis. And, Serena has rightfully reasserted herself as the best player in the game.

"

-- brooklyn1006
There will be no weather delays for the finals this weekend at Wimbledon. The Williams sisters raise the roof on Saturday, and Andy Roddick tries to rain on Roger Federer's march toward slam win No. 15 Sunday.
Women's final: SportsNation gives Venus slight edge
Men's final: Two-thirds of SportsNation favors Federer
Vote: Wimbledon Finals
Adi (Toronto)
Hi, Greg. 16 of last 17 slams, 21 consecutive slam semis, 20 total slam finals, what is left for Roger to conquer? How does he stay motivated? Do any of the Andys really have a chance?
Greg Garber

This is the question going forward, Adi. I think Fed's struggles last year, physically and mentally, actually motivated him to get better. That, and losing three Grand Slam finals to Rafael Nadal in a span of eight months. Pete Sampras admitted recently that he had a tough time getting up for the Cincinnatis of the world, but he was always fired up for the Slams. I think Roger will be like that, too.
Ray Gordon Reid (San Jose)
Who do you like tomorrow: Serena or Venus?
Greg Garber

Ray: The sisters are 10-all in their WTA career matches and have split their four previous Wimbledon matches. I'll take Venus in this one. She's going for three straight at All England and her sixth overall. Full transcript.