SportsNation Blog Archives

Cris Cyborg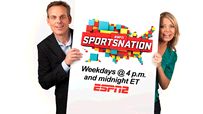 Michelle Beadle and Colin Cowherd promise to give you their undivided attention and watch U.S.-Mexico only during "SportsNation" TV commercial breaks today.
Argue the hot topics, vote on the biggest stories and chat during the show, on ESPN2 at 4 p.m. and midnight ET.
Note: Broadcast voting results as of afternoon ET.
Which fight are you more interested in watching?
Would you rather see a replay of Brock Lesnar versus Frank Mir or watch Gina Carano versus Cristiane "Cyborg" Santos live?

Have you ever sipped beer through a straw?
Maybe we should reword this question: "Are you male, and did you attend college?" And don't lie to us. Your mom won't see how you voted.

Who won Tuesday night's fight?
Kevin Youkilis gets points for the sprint, helmet toss and attempted tackle, but Rick Porcello took advantage of his momentum and ended up on top.
What do you think about Michigan's tackling dummies?
The Wolverines hit tackling dummies adorned with Ohio State stickers in practice. Is this a smart, motivational move or a dumb tactic?

Will the Rick Pitino story affect Louisville recruiting?
Pitino reportedly told police that he had consensual sex with and paid for an abortion for the woman who has been charged with trying to extort him.
What is "SportsNation" TV, and how do you make your voice heard? Read about the new ESPN show that features fan opinions with calls, tweets, polls, rankers and more.