SportsNation Blog Archives

Stephen Curry
Are you the friend everyone looks to when a sports question pops up at bar trivia? Do categories like "The Preamble to the Constitution" or "Herbs and Spices" hurt your brain? Then "Jeopardy!" has just the category for you! On Monday, the long-standing quiz show jumped from a first round of "Curry Dishes" to a Double Jeopardy! feast of "Steph Curry Dishes":
We're serving up STEPH CURRY DISHES today on J!

Posted by Jeopardy! on Monday, October 26, 2015
Mr. Trebek really loved the cleverness of that. And hey, ESPN made the board:
Jeopardy!
(What is THIS, Alex!)
Anyway, if you're reading this, you'll probably find the rest of the questions to be extremely easy. But take a look anyway:
"When Steph is making an assist, aka 'dropping' this coin, he's dishing it to someone else for the score."

"If Steph dishes out 10 assists along with 10 points and 10 rebounds in a game, he achieves this coveted feat."

"One of Steph's best dishes at the 2015 All-Star Game was to this Mavericks big man, aka the Dunking Deutschman."

"Steph dished and dealt in the NCAA, leading this southern state's Davidson College to the Elite Eight."

Answers: Dime, triple-double, Dirk Nowitzki, North Carolina.
The 5-0 Carolina Panthers are one of the NFL's five undefeated teams, so you can't blame their fans for feeling a little cocky prideful.
That includes Panthers super fan and reigning NBA MVP Stephen Curry, who used the Panthers' Week 6 victory over the Seahawks to troll NBA rival and Seattle native Nate Robinson:
Before you go calling Curry a bandwagon fan, know this: He grew up in Charlotte, is tight with Panthers QB Cam Newton and was a special guest of the team in Week 2 to beat their signature "Keep pounding" drum.
#KeepPounding pic.twitter.com/9D1YUITOVy

— Carolina Panthers (@Panthers) September 20, 2015
Oh, and his signature shoe reflected his Panthers passion:
A FIRST LOOK AT THE UNDER ARMOUR CURRY ONE LOW "PANTHERS" pic.twitter.com/jClqmVydQI

— @£s¢ (@inthepaint6) June 5, 2015
But give it to Robinson: He took the troll in stride, and didn't hide from being put on blast. Instead, he called out his team (and coach) for their subpar play before offering an intriguing solution to their struggles.
Hey, when your team beats your friend's team -- and is undefeated -- you hold all the bragging rights in any football discussion. Of course, if Robinson wants to pull out the NFL trump card, he could always bring up Super Bowl wins -- but that may lead to an NBA MVP conversation he probably wouldn't enjoy.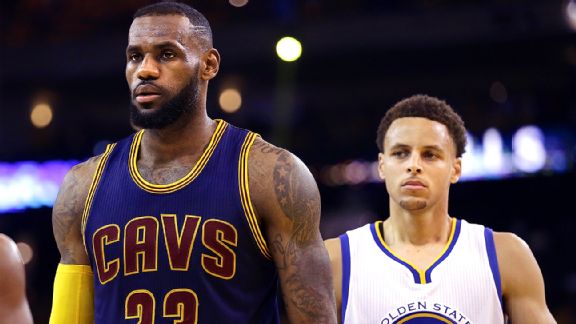 AP Photo/Ben Margot
Recently we brought you the top 10 players, as rated by the latest "NBA 2K" game.
The ratings for "NBA Live 16" also are here -- and they're quite a bit different.
Here's the top 10 (and ties):
1. LeBron James (97)
2. Kevin Durant (96)
T-3. Anthony Davis (95)
T-3. Marc Gasol (95)
T-3. Blake Griffin (95)
T-3. James Harden (95)
T-3. Chris Paul (95)
T-8. LaMarcus Aldridge (94)
T-8. DeMarcus Cousins (94)
T-8. Stephen Curry (94)
T-8. Russell Westbrook (94)
That's right: LeBron James (no surprise) is No. 1, 2014 NBA MVP Kevin Durant is No. 2, and a handful of talented stars across positions come in tied for third.
Meanwhile, the reigning NBA MVP is tied for eighth -- definitely an eye-opening number for a player many consider the best in the league. Then again, perhaps "NBA Live" is drawing upon more than just last season for its ratings; few before 2014-15 had Curry in that top-player-overall conversation.
September 23, 2015
Sep
23
The ratings for "NBA 2K16" are out, and -- unlike in "Madden" -- nobody in the league was given a 99.
In fact, the highest rating was a 94, given to a player whose name long has been synonymous with "best in the NBA."
The 10 overall ratings in #NBA2K16. What do you think? Let the debates begin. pic.twitter.com/qGyUIHajzA

— NBA 2K 2K16 (@NBA2K) September 22, 2015
That's right. Even Stephen Curry's MVP season -- which gave him a four-point jump over his score a year ago -- couldn't push him past LeBron James, although the latter dropped four points (partly due to, as Bleacher Report explains, a new way of calculating rankings).
James Harden's players' choice MVP campaign got him a four-point boost, as did the continued scary-goodness of Anthony Davis, but they still couldn't take down The King. Kevin Durant's injury, meanwhile, likely was the reason for his fall from second place and a 95 rating a year ago. (Interesting note: The three non-LeBron top-four players are on the cover.)
There were a couple of surprise inclusions on the list. Carmelo Anthony was 20th in player efficiency rating, 49th in real plus-minus and 81st in wins above replacement last season, yet checks in at No. 8. LaMarcus Aldridge (11th/25th/22nd) was also an eyebrow-raiser at tied for eighth/No. 10.
Not that either is bad, far from it, But still, no love for the best player on Aldridge's team?
It's understandable for a fan to want Stephen Curry's autograph. He's the NBA MVP, after all, and he just led the Golden State Warriors to their first title in 40 years.
But there's a line. It should go without saying. But apparently, not everyone knows the rules, so Curry took to Twitter on Tuesday to explain:
PSA. Noticeably following my family's car on the road for nearly 30 miles & tailing me the whole way is not the best way to get an autograph

— Stephen Curry (@StephenCurry30) August 19, 2015
Fans, don't do that to athletes.