SportsNation Blog Archives

Blake Griffin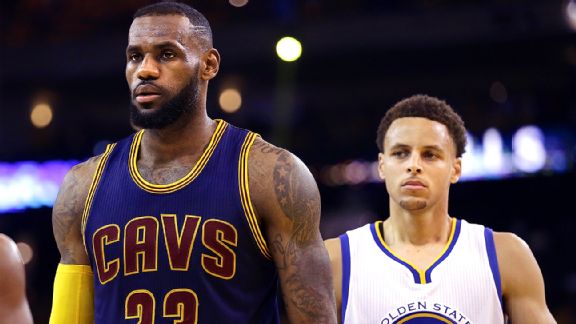 AP Photo/Ben Margot
Recently we brought you the top 10 players, as rated by the latest "NBA 2K" game.
The ratings for "NBA Live 16" also are here -- and they're quite a bit different.
Here's the top 10 (and ties):
1. LeBron James (97)
2. Kevin Durant (96)
T-3. Anthony Davis (95)
T-3. Marc Gasol (95)
T-3. Blake Griffin (95)
T-3. James Harden (95)
T-3. Chris Paul (95)
T-8. LaMarcus Aldridge (94)
T-8. DeMarcus Cousins (94)
T-8. Stephen Curry (94)
T-8. Russell Westbrook (94)
That's right: LeBron James (no surprise) is No. 1, 2014 NBA MVP Kevin Durant is No. 2, and a handful of talented stars across positions come in tied for third.
Meanwhile, the reigning NBA MVP is tied for eighth -- definitely an eye-opening number for a player many consider the best in the league. Then again, perhaps "NBA Live" is drawing upon more than just last season for its ratings; few before 2014-15 had Curry in that top-player-overall conversation.
September 23, 2015
Sep
23
The ratings for "NBA 2K16" are out, and -- unlike in "Madden" -- nobody in the league was given a 99.
In fact, the highest rating was a 94, given to a player whose name long has been synonymous with "best in the NBA."
The 10 overall ratings in #NBA2K16. What do you think? Let the debates begin. pic.twitter.com/qGyUIHajzA

— NBA 2K 2K16 (@NBA2K) September 22, 2015
That's right. Even Stephen Curry's MVP season -- which gave him a four-point jump over his score a year ago -- couldn't push him past LeBron James, although the latter dropped four points (partly due to, as Bleacher Report explains, a new way of calculating rankings).
James Harden's players' choice MVP campaign got him a four-point boost, as did the continued scary-goodness of Anthony Davis, but they still couldn't take down The King. Kevin Durant's injury, meanwhile, likely was the reason for his fall from second place and a 95 rating a year ago. (Interesting note: The three non-LeBron top-four players are on the cover.)
There were a couple of surprise inclusions on the list. Carmelo Anthony was 20th in player efficiency rating, 49th in real plus-minus and 81st in wins above replacement last season, yet checks in at No. 8. LaMarcus Aldridge (11th/25th/22nd) was also an eyebrow-raiser at tied for eighth/No. 10.
Not that either is bad, far from it, But still, no love for the best player on Aldridge's team?
Days ago, DeAndre Jordan agreed to leave the Los Angeles Clippers for the Dallas Mavericks. But with players unable to officially sign until Thursday, Jordan had time to change his mind. He apparently did, telling Clippers players and officials after a meeting at his house Wednesday evening that he would indeed return.
But that wasn't good enough for L.A. Sources told ESPN that the team stayed at his house after their meeting, refusing to leave until midnight Eastern when the signing could become official -- and, in effect, keeping him from speaking with Mavs owner Mark Cuban, his agents, or anyone else.
In the middle of it all, Blake Griffin appeared to confirm the entire scenario with this tweet from (apparently) inside the house:
Don't agree with the furniture layout but I'm not an interior designer. pic.twitter.com/23PNgQB88z

— Blake Griffin (@blakegriffin32) July 9, 2015
Then, 30 minutes later:
Alright everybody goodnight! pic.twitter.com/cME0rFR5LC

— Blake Griffin (@blakegriffin32) July 9, 2015
Funny! However, you're not going to put this one past us, Blake Griffin.
A Google Images search of "tent in backyard" turns up this strikingly familiar image, pulled from a camping blog post.
A cursory search for "chair against door" couldn't find anything that looked like Griffin's first photo, which leads us to believe it might be real. (And if you are at the house, it would be a lot easier to stage than the tent image.)
Either way, it's just another element of perhaps the craziest offseason day in NBA history -- one that started with emojis, included Kobe Bryant inventing a hashtag, and came to this.
UPDATE: At least Doc Rivers and (if he took the photo) Paul Pierce appeared to stay with Jordan until he officially signed.
That's why they brought me here lol pic.twitter.com/Z64Tkiyp01

— Paul Pierce (@paulpierce34) July 9, 2015