SportsNation Blog Archives

Jonny Flynn
Would you rather own a house in a neighborhood with potential or rent in the swanky part of town? We should probably mention the former comes with an average of 49.9 inches of snow each year, while the latter comes with a beach and 49.9 fewer inches of snow. And Kobe Bryant. We're not sure how that fits in the analogy.
It's not clear that choice confronts Lakers assistant Kurt Rambis just yet, but if reports are true that he's the leading candidate for the Timberwolves' vacancy, it may.
So what would you do? On the Minnesota side, you get some good young players like Al Jefferson, Kevin Love, Jonny Flynn and Corey Brewer, even if voters aren't sure that's a winning foundation with or without Ricky Rubio. On the Los Angeles side, well, you get another year with Phil Jackson and Bryant, but you also get another year older hoping the Buss family isn't going to turn out like Hank Steinbrenner minus all the cash.
"

This job has bad career move written all over it for Rambis. The guard situation is a mess, and the whole Ricky Rubio will be a constant distraction. Rambis would be wise to steer clear of the land of a thousand point guards until the roster gets sussed out and until after the league gets a better sense of whether David Kahn has a clue. Right now it looks like the first coach through Minny will be building the roster, teaching the kids and setting the table for the next coach to come in.

"

-- BirishB
"

This would be the ultimate revenge for Kurt Rambis after the infamous clothesline he took from McHale. But does Rambis really want to take a job with the Wolves knowing that he is a front-runner for the Lakers coaching job after Phil Jackson retires, which will almost certainly happen after this season..

"

-- Lucky.XIII
Tags:

Minnesota Timberwolves, Los Angeles Lakers, Kobe Bryant, Kevin Love, Al Jefferson, Jonny Flynn, Corey Brewer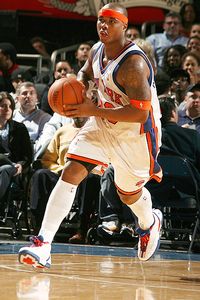 There is a post about a trade between the Clippers and Timberwolves in which Mark Madsen figures semi-prominently and which lacks a clear winner? Yep, it's late July in the sports world. It's pretty much this or T.O.'s latest television escapades (or the obligatory Brett Favre update on when he plans to update his status).
And there is something of interest about the trade sending Quentin Richardson to the Timberwolves for Sebastian Telfair, Craig Smith and Madsen, if only because Richardson is becoming the human re-gift in the NBA.
The former DePaul star (that was a division's worth of cities ago) is on his fourth NBA team ... of the summer. He finished the season with the Knicks and subsequently bounced from the Big Apple to the Grizzlies, Clippers and now Timberwolves. He also has the dubious distinction of being traded for Telfair, Zach Randolph and Darko Milicic, three of the more cringe-worthy names in recent NBA memory. Randolph is a 20-10 guy, yet SportsNation still said his absence would almost be preferable. But really, we're sure you'll be pleased with your purchase, Minnesota. Just don't forget where you put the box he came in.
"

I love the implications of this for my Wolves. After watching Corey Brewer and Bobby Brown look god awful in summer league, I love Q as a SG option and the fact that Kahn is in Spain, and Rubio's spanish team just signed a new PG may signal a Spanish invasion in the Northwoods.

"

-- TajMccall
"

Don't you think the chances of Quentin getting a full no-trade clause in his next contract are pretty good right now?

"

-- fc72284
Tags:

Minnesota Timberwolves, Los Angeles Clippers, Quentin Richardson, Sebastian Telfair, Craig Smith, Mark Madsen, Corey Brewer, Bobby Brown, Jonny Flynn