SportsNation Blog Archives

Josh Koscheck
---
Diaz vs. Condit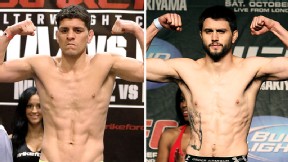 Nick Diaz and Carlos Condit will fight for the interim welterweight belt in Georges St. Pierre's unfortunate absence.

---
Nelson vs. Werdum
Fabricio Werdum makes his return to UFC, having spent his time in Strikeforce since 2008. He'll match up against Roy Nelson, who is coming off a win against Mirko Filoppvic.

---
Koscheck vs. Pierce
Koscheck was scheduled to fight Carlos Condit, and Pierce was to fight Nick Diaz, but Pierre's injury means the two will face off against one another instead at UFC 143.

---
Jorgensen vs. Barao
Renan Barao hasn't been defeated in the ring since 2005. Scott Jorgensen is coming off a win against Jeff Curran at UFC 137.

---
Starks vs. Herman
Former Ultimate Fighter contestant Herman will take on undefeated Starks in a middleweight bout.

Jon Jones and Quinton Jackson are set to square off at UFC 135, and their matchup promises to be exciting in the most devastating way possible. Both men are formidable strikers, with Jones in the process of establishing his reputation as a man whose elbows could knock down trees. Jackson didn't acquire the nickname "Rampage" by accident -- a cursory viewing of his signature body slam is enough to cause one's knees to tremble. Are they evenly matched, or will one of the other fights be more close-fought?
Vote: How will each match be decided at UFC 135?
"I love Rampage but really Rampage is a true fighter at heart but Jones is a modern fight student who can hurt you in a lot of ways. Rampage is too much of a head hunter, and the motion of Jones with those fast front leg kicks will stymie Rampage. I love Rampage, and I will be sorry to see you go out in one." -- SN commenter slinkyguy
"rampage has the tools to beat JBJ but who will have the better gameplan? most likely jones since he trains with greg jackson so expect lots of leg kicks to slow down rampage and take some of his power away then he will open up and put rampage away. i think rampages' only chance is early, and hes gonna have to catch him with something, but thats all he has to do with that kinda power. just a glancing blow could be enough" -- SN commenter sportznut1000
---
Which will be the best fight?
Jon Jones and Quinton Jackson could put on a show, but on a card that includes Mark Hunt, Josh Koschek and Matt Hughes, Jones-Jackson could play second fiddle to a great early fight.