SportsNation Blog Archives

Andrew Walter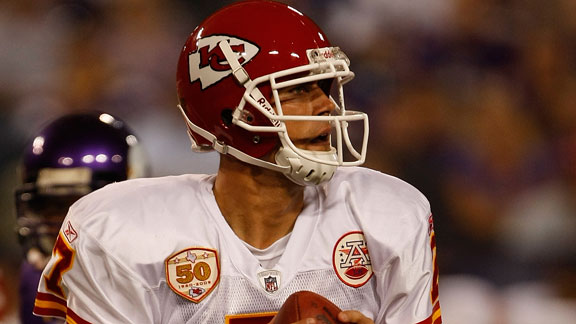 Kansas City fans weary of watching the likes of Steve Bono, Damon Huard or Tyler Thigpen take snaps at quarterback might have hoped the Chiefs had the next Tom Brady on their hands when they traded for Matt Cassel after last season. Odds are Cassel isn't quite the Tom Terrific impersonator Chiefs fans had in mind.
A year after Brady's injury in Week 1 opened the door for Cassel's emergence in New England, it's the latter who will reportedly miss at least the Chiefs' opener with a strained MCL.
That optimism aside, "Football Scientist" KC Joyner sounded the warning bell more than a month ago, when Cassel was healthy, about limitations of the Chiefs' new quarterback.
KC Chuck (Utah)
Do the Chiefs even have a chance to be somewhat better this year? Though ... could it get any worse?
KC Joyner

They have a collection of really talented young players, so getting better is almost a certainty. One issue could be at QB. Cassel was quite mediocre at vertical passing last year, and now he doesn't have Moss to throw to. If he can't turn that around, it will hinder this [offense] and make Chiefs fans question why Kansas City didn't stick with Tyler Thigpen. Full July 23 wrap.
Not that Cassel's old team is without its own quarterback issue. Brady went down hard after a hit from Albert Haynesworth on Friday night (in a preseason collision of contracts worth roughly the gross domestic product of Kiribati). More than half of SportsNation still expects Brady to start every game this season, and he better. Only extended members of the Walter family and a few others think the Patriots could make the playoffs with Andrew Walter at quarterback.
"

What are the Pats doing? They really think that if Brady where to get hurt again they will be able to match last season's record of 11-5 with Hoyer or Walter as the main QB? They are really brave or really sure that Brady will remain fine all year.

"

-- wsopstud