SportsNation Blog Archives

Justin Morneau
So much for a chance for Robinson Cano to boost his MVP candidacy with some free airtime (granted, it's not like people who play for the Yankees hurt for exposure). The Home Run Derby wanted Robinson Cano, and Cano wanted to take part in the Home Run Derby.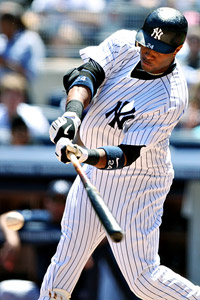 There was only one small problem. The team that pays Cano wasn't interested. Citing a back injury hampering their second baseman, the Bronx Bombers pulled Cano from the hitting contest. And at least one fan thinks that's a dive worthy of a yellow card.
"Joe Girardi better not manage the game, he might get hit with a foul ball and not be available to manage the Yankees for the second half. And Jeter better not play, he might pull his hamstring and be out for 2-4 weeks, too much risk. And A-Rod better not play, he might bounce a foul ball off his toe and we might not have him for the rest of July and part of August.

"In fact, we should just cancel the whole All-Star Game because there might be an earthqu -- wait, better yet -- a giant meteor MIGHT fall out of the sky and hit the stadium, crushing all players, coaches, officials, stadium workers, and fans!" -- SN commenter mfriedmeyer
Pete (San Francisco)
Who are your AL and NL MVP's at the half-way-point of the season? I know we still have half a season to play, but if you were forced to choose someone from each league to be an MVP at this point in the season, who would it be?
Joe Morgan
In the AL, I would pick Robinson Cano. His team has the best record in the league and he's their leader, their star player. He's been their most productive and consistent player on their team. The NL is a little toughter. I would have to give it to 2-3 guys: David Wright, Troy Glaus, Pujols. Then I'd have to give Scott Rolen and Joey Votto a nod. I don't think it's as clear cut in the NL as it is in the AL. Full transcript.
Dan (Detroit, mi)
Is Miguel Cabrera the best hitter in MLB today?
Jerry Crasnick
Dan, Even though Albert Pujols isn't having quite an Albert Pujols-type of year, it's hard to pick anybody over him. Still, Cabrera is having an amazing year. He's got to be right in the MVP mix in the AL. Full transcript.
We're sure the distinct lack of an American League lineup for the Home Run Derby has nothing to do with stars making like DeMarcus Ware on the sideline when asked to participate.
Sure, Josh Hamilton, Justin Morneau and Mark Teixeira already said they were out, and sure, the NL lineup was announced days ago. Yes, even Curtis Granderson has suggested it's not really his bag. But the delay is entirely coincidental; it's not as if the powers that be have been reduced to bribing Tim Wakefield to take some hacks. Right?
But if this year's Home Run Derby has all the makings of a dud (unless they wise up and make Ichiro do it), that won't stop us from wasting a few minutes on a Friday. How would things unfold if you put 10 of the greatest home run hitters (natural or otherwise) on the field for a power-hitting contest?
"

I dont blame the guy for not wanting to be a part of it. He won last years and espn decides to interview Josh hamilton. When they finally do interview Morneau he's asked about Josh hamilton's preformance. It was a joke how they treated this guy who won the damn thing.

"

-- socaliente
"

Baseball should have Griffey in it. I mean here's a guy who has the best swing in baseball and has won many of these before, in his prime. Now he is back home this season and the team and him individually have been god awful. In the past when he has won/entered into the Derby his swing has not been effected after, it's just that pure of a swing. Plus what's the worst that happens? his swing does slightly get affected? ohh well

"

-- Lil_Duece46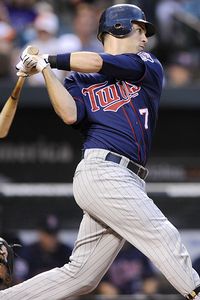 That Joe Mauer cuts such a dashing figure that we had to get to the AL Central after yesterday's AL West incursion. Bonus points if you can guess what comes tomorrow.
Anyway, few questions have divided the 'Nation quite like the fate of the AL Central. All right, so people outside Chicago, Cleveland, Detroit, Kansas City and Minneapolis-St. Paul aren't necessarily passionately divided on the question, but they are divided nonetheless.
As a division, it's sort of like picking a checkout aisle at the grocery store on the night before Thanksgiving.
In the days before the season began, the Indians, Tigers, Twins and White Sox were all getting roughly the same amount of support to win the division. And by April 20, Royals supporters were flying high, so to speak, to make it a five-way race.
"

I agree that the sox need another arm, not just to compete for the division, but for the playoffs also. Id cut contreras out of the rotation entirely in the post season. 4 man w/ whoever KW can find to plug that 4th hole.

"

-- weinertime
"

Do you think the Tribe would take the same deal for Lee that SD wanted to take for Peavy? Richard and Poreda plus 2 pitching prospects to be named later? Richard has some good stuff (as is evident by how good he is the first time through the order, he just needs some fine tuning and I don't think he'll solve it this season) and Poreda has a lot of potential. Plus, Cleveland could use all the young talented arms they could get.

"

-- morganator316
"

I tried to keep the faith in Ordonez as long as possible but he just cont. to look bad......... real bad! I wonder how long Leyland is going to rotate Kelly and Thomas in and out of AAA Toledo before settling on one to head down the stretch. I guess anything can happen IF and or WHEN they make a more final decision on Mags.

"

-- KaneBowman
"

I've tried to remain positive, but I can't hold back anymore. It's time for Dayton Moore to go. Schoddy trades, head scratcher draft strategy, horrible free agent contracts (this off season), and now the cream of the crop TPJ still on the team. Hernandez is no great shakes, but he is a completely better ball player then TPJ. Fire DM now.

"

-- BairdHater1
"

I am thrilled with Joe Crede. The teams of the past would strand 7 or 8 singles per game but this guy every 15 or so at bats hits a canon shot over the fence and that puts runs on the board. Plus just the routine plays he makes is such an upgrade over Brian Buscher. He is not our problem. Our problem is getting Nick Punto out of the starting lineup. Freddy Sanchez would be great. Punto still has great value as a utility player as his defense is superb at multiple positions. And give him credit he does draw some walks but his bat is horrible.

"

-- miraclemauer