SportsNation Blog Archives

Braylon Edwards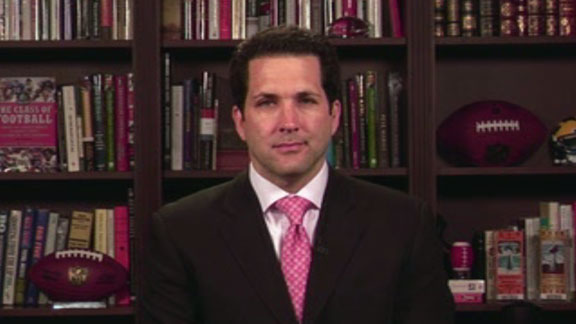 So apparently when Joe Namath speaks, things still happen for the Jets. A week after Broadway Joe stopped by SportsNation to chat and said he didn't think his old team could be real contenders in the AFC East without more moves, the team went out and traded for wide receiver Santonio Holmes. We're sure there is a direct correlation; what happens in SportsNation does not stay in SportsNation.
Now the bad news for Jets fans. As ESPN's Adam Schefter reported Monday, Holmes will miss the first four games of the upcoming season, reportedly for reasons related to prohibited substances, which means Braylon Edwards may be the model citizen of the team's receivers. Nonetheless, a Jets fan blogs his pleasure with the move, and a Dolphins fan blog his concerns.
"Oh my goodness, Mike Tannenbaum -- Mr. T -- has delivered a CHRISTMAS present in April! The Jets offense made a dramatic improvement overnight with the addition of another receiver that can stretch the field. More importantly, Mark Sanchez now has another target to hit, which will come in handy as he continues his development as an NFL quarterback." -- Read Goldbrick4's full post.
"I trust Bill Parcells, Jeff Ireland and coach Tony Sporano. But in year three of this regime, the lack of activity is testing my faith. You can only add so much in the draft, so what exactly is the Fins braintrust waiting on? On paper right now the Dolphins are third in their division, and the gap between second and third is growing by the day. The Dolphins need to make a huge splash in this upcoming draft. The Dansby signing was but a mere ripple. The Jets are doing cannonballs." -- Read ricodade's full post.
JD (NY)
Santonio Holmes for a 5th-rounder...ummmm, why????
Gary Horton
The Pittsburgh Steelers can't wait to part ways with him. That's not a lot of compensation for a pretty good player. I think the Steelers are sick and tired of these offseason problems. This may be a statement for their players. For the Jets, it could be a great pick up, in terms of not costing them a lot, but the Jets also continue to flirt with high-risk, high-reward players (not necessarily all personal issues). As we said a week ago, LT is a big name, but is there anything left in the tank? Cromartie is a talented CB, but he has all sorts of issues. Brodney Pool has real injury problems. The Jets could come out of this really smart or not looking very thorough. Full transcript
Tags:

New York Jets, Santonio Holmes, Mark Sanchez, Braylon Edwards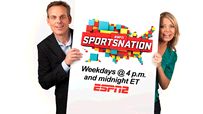 The battery of Michelle Beadle and Colin Cowherd has a better ERA during the afternoon episodes of "SportsNation" TV.
Argue the hot topics of the day and vote on the biggest stories from the world of sports. The show airs on ESPN2 at 4 p.m. and midnight ET.
Note: Broadcast voting results as of this afternoon (ET).
If he trained, would LeBron be a better WR than Braylon Edwards?
You've seen the LeBron in a Browns uniform commercial. You've seen Edwards traded away. Now complete the Cleveland fantasy football picture.
Whom would you pick first for a playoff series?
Derek Jeter had a clutch HR to start the Yankees' postseason scoring. Albert Pujols was intentionally walked anytime the Dodgers saw danger.
Are the Red Sox in the Angels' heads?
The Angels have lost 12 of their past 13 postseason games against the Red Sox. "Last year was last year," said Torii Hunter when asked about it.

Does toughness run in families?
Eli Manning missed practice for a second straight day. Will he play against the Raiders? Dad Archie and brother Peyton have been known to play hurt.

Does Braylon Edwards make the Jets a serious Super Bowl contender?
Edwards, wearing a white No. 17 Jets jersey, caught passes from rookie Mark Sanchez and backups Erik Ainge and Kevin O'Connell in drills Thursday.
What is "SportsNation" TV, and how do you make your voice heard? Read about the new ESPN show that features fan opinions with calls, tweets, polls, rankers and more.
Tags:

Cleveland Browns, New York Jets, New York Giants, Braylon Edwards, Eli Manning, LeBron James, Cleveland Cavaliers, St. Louis Cardinals, New York Yankees, Boston Red Sox, Los Angeles Angels, Albert Pujols, Derek Jeter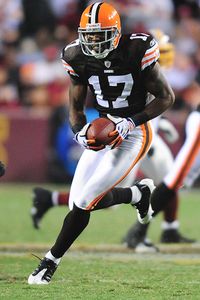 Braylon Edwards allegedly decks one of LeBron James' friends and gets traded to the Jets. Michael Crabtree, with Hammer along for the ride, finally signs with the 49ers a month into the regular season. Likely first-round pick Dez Bryant is ruled ineligible for the rest of the season at Oklahoma State for violating NCAA bylaws.
And all of this in a week when Chad Ochocinco and Terrell Owens have been quiet.
The point? It's not difficult to find wide receivers capable of making headlines. Getting the guys who make plays consistently is a bit more challenging.
Scouts Inc. has put together a list of the best wide receivers in the game, but with Owens fading and Marvin Harrison gone, what are we to make of the current crop of receivers? Have Larry Fitzgerald and Andre Johnson taken over at the top?
Tags:

San Francisco 49ers, New York Jets, Cleveland Browns, Braylon Edwards, Michael Crabtree