SportsNation Blog Archives

Chase Utley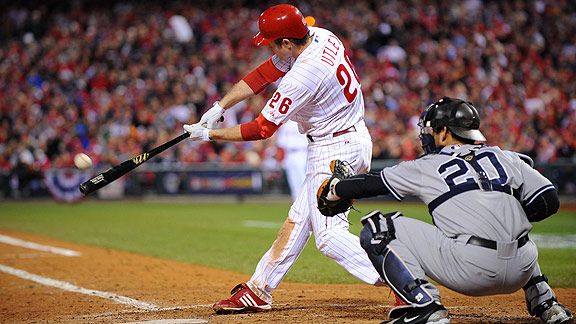 On Tuesday (when Phillies fans and Yankees haters could still picture the Bronx Bombers without a 2009 World Series title), a majority of SportsNation overwhelmingly picked Chase Utley as MVP of the World Series.
Yet with the Yankees taking home the title of world champs, was it only fitting that a New York player (Hideki Matsui) win the award? Or should Utley's numbers (most notably, his five home runs this series) have made him the 2009 World Series MVP? Discuss and vote below!

"

Matsui is the MVP. He single-handily [won] today's game and finished the series with 3 homers, 8 RBIs, .615 average. Sorry Mariano not this year.

"

-- Jake-Macauley
A few years ago, the big story with the Phillies was the fact that they were the first-ever professional franchise to lose 10,000 games. Now, they may become the first back-to-back World Series winners in the new century.
Last night's NLCS Game 5 provided still more evidence that Philadelphia may be the most balanced team in baseball. With a lineup that features contributions out of nearly every player (even though Ryan Howard went hitless, Jayson Werth, Shane Victorino, and Pedro Feliz all homered), some shutdown starting pitchers, and a suddenly resurgent bullpen, the Phillies are sitting pretty. Surprised, SportsNation? Going by your judgments back in early July, late July, and even just prior to the series, you probably should be. Now, the only thing left for the Phillies to do is wait for the winner of the Angels-Yankees series, which SportsNation thinks won't take too long -- much like seemingly every other series this postseason.
Sid Bream, Aaron Boone and Dave Roberts will attest that it's not always the biggest names who make the plays that get teams to the World Series. But it doesn't hurt to have the big guns on your side. The bad news is SportsNation's picks for the NL MVP (Albert Pujols), AL MVP (Joe Mauer), NL Cy Young (Tim Lincecum) and AL CY Young (Zack Greinke) are all home watching on television. At least we've still got one of the Molina brothers.
Colin Cowherd and Michelle Beadle are looking for your rankings on the best remaining players for Thursday's "SportsNation" (ESPN2. 4 p.m. and midnight ET), but voters have already made it known who they would least want to face with the game on the line.
winning
the division easily. On the other hand, behold the majesty of the Pittsburgh Pirates. They haven't won a World Series since 1979, which isn't a terribly long time to go without a championship, but their regular season record is most concerning. the team hasn't had a winning season since 1992, going through seven managers in that timeframe. They have seemingly finally realized the futility of their situation, and have begun selling off what few assets they have. Jason Bay was traded in 2008. Nate McLouth left earlier this season in a controversial deal. Jack Wilson and Freddy Sanchez (whom SportsNation touted as the Pirates'
midseason MVP
) rejected supposedly low-ball contract extensions, and may
be traded
shortly. Pirates fans have seen rebuilding plans fail before. Will this time be any different?