SportsNation Blog Archives

Los Angeles Dodgers
By
Meg Wilkinson
| ESPN.com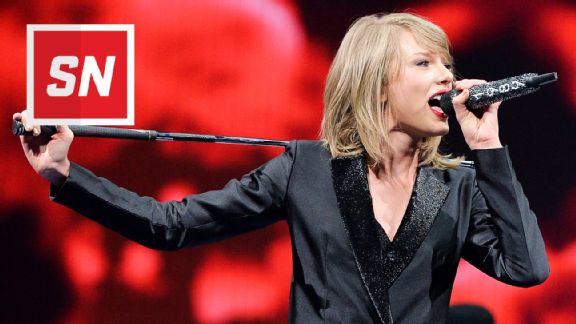 George Pimentel/Getty Images for TAS
Despite the MVP hitting of Bryce Harper, Washington Nationals fans have been clamoring for more power in their lineup. Friday night, they just wanted actual power in the stadium.
Three times during the Dodgers-Nationals game, a bank of lights went out at the park. And after the third electrical problem, the umpires called the game.
That got some players wondering: What could have caused this electrical outage? The logical answer: the last person to use the facility.
Well who was the last one to use Nationals Park last? Taylor Swift.. I blame her for the power outs tonight. We now have #BadBlood

- Max Scherzer (@Max_Scherzer) July 18, 2015
@taylorswift13 your concert used up all the electricity in DC..thanks for helping start the 2nd half with a bang

- Joc Pederson (@yungjoc650) July 18, 2015
I like the theory that the lights are Taylor Swift's fault.

- Brett Anderson (@BrettAnderson35) July 18, 2015
Then all was cleared up by Harper, who reminded us about his lengthy hair routine.
My bad everybody..I knew I shouldn't of used that blow dryer before the game! #shortage

- Bryce Harper (@Bharper3407) July 18, 2015
"Bad Blood" or not, Swift's camp experienced a mechanical malfunction during her show at Nationals Park earlier this week, so we might never know the real source of the power failures. Let's all "Shake It Off." The game will resume Saturday.
Getty Images
2014 MLB playoff predictions
The regular season is done. The wild-card games are over. The division series are underway. How will it all play out?
AP Photo/Jae C. Hong

Early MLB playoff predictions

MLB playoff-clinching season is here. The Los Angeles Angels snagged a playoff spot Monday and later locked up the AL West. The Baltimore Orioles and Washington Nationals cemented their respective division titles Tuesday. Meanwhile, it appears the wild-card races are the most competitive, with each league seemingly embroiled in a three-way scrape for two spots. How will it all play out?

Yasiel Puig was pretty upset after striking out swinging in the third inning of last night's game against the Padres. Naturally, he threw his helmet. He then proceeded to demonstrate the difference between an elite athlete in his prime and, say, you and me:

Those are some quick hands he's got there. We love how unfazed Puig is by the whole thing -- as if ridiculous feats of athletic prowess are just everyday occurrences for him, barely worthy of comment. He might not even remember it happening. For us, this was something awesome and memorable, but for Puig (as the line from the classic 1994 film "Street Fighter" goes), it was Tuesday.

Getty Images

MLB second half predictions?

The MLB's second half is upon us, and only two teams have leads of more than 1.5 games in their respective divisions. In other words, this should get intense. Who will win all the divisions? The leagues? The World Series? Cast your votes below!