SportsNation Blog Archives

Chris Carpenter
Tim Lincecum won the National League Cy Young for the second consecutive season, just as SportsNation voters suggested he should at the All-Star break and after the season.
So why are Chris Carpenter and Javier Vazquez at the center of a Cy Young controversy?
Lincecum won a close vote, edging the Cardinals duo of Carpenter and Adam Wainwright. That's noteworthy because two voters, including ESPN.com's Keith Law, didn't include Carpenter on their three-person ballots. Instead, Law put Vazquez second. Never one to bow to conventional wisdom or duck a question, Law explained on "AllNight" on ESPN Radio. But for SportsNation chatters, the news was hardly a surprise.
Jeremy (California)
I know you're not going to reveal your Cy Young ballot before the results are announced, but will you reveal it after the fact? I'm really curious. I know how I'd vote, but honestly I would be neither surprised nor angry at any three of Lincecum, Vazquez, Haren, Jimenez, Wainwright, and Carpenter, in any order.
Keith Law
That's pretty much my view. It's not a 3-man race; it's at least a 4-man race (Vazquez) and you could make a serious case for Haren. Full Oct. 1 transcript
John (AZ)
When you are voting for the Cy Young what is one stat that you highly value?
Keith Law
I'm looking at a mix -- VORP, FIP, xFIP, etc. At the end of the day, I'm not comfortable rewarding a pitcher for playing in front of a great defense, which ERA and even VORP do to some degree. Full Oct. 1 transcript
"

A starting pitchers job is to win games. That's it. Great pitchers win alot of games because they are great. I'm still shocked ANYONE would ever say wins aren't important. Look, Greinke and Lincecum are really good young pitchers. If they were on teams that could hit and score runs, they both would've probably won 20 games anyway. But I still believe if one of the contenders won 21,22 games this year, they would've won the CY in either league.

"

-- bigbluepete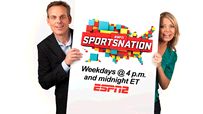 Michelle Beadle and Colin Cowherd tee off for a $10 million paycheck on "SportsNation" TV.
Argue the hot topics of the day and vote on the biggest stories from the world of sports. The show airs on ESPN2 at 4 p.m. and midnight ET.
Note: Broadcast voting results as of this afternoon (ET).

Should the Nets be on LeBron James' short list?
The King hasn't said anything recently to cause us to doubt his Cleveland loyalties, but the Nets are getting a new Russian billionaire owner.

Would you hire a former great player to coach your team?
Wayne Gretzky is the latest superstar player to fare poorly in management. His record in Phoenix: 143-161-24 with no playoff appearances.
Who has been more impressive this season?
The Cardinals are on the verge of wrapping up the NL Central. Have you been more impressed with Albert Pujols or St. Louis' pitching?

Do you enjoy player trash talk?
Randy Moss and the Jets defense are exchanging off-field barbs. We see the talking, even if we can't hear what the players are saying, almost every game.

Do you like Jay Leno's new show?
Many of the critics have been unkind to the former "Tonight Show" host in his new, earlier time on NBC. What's your take on Leno?
What is "SportsNation" TV, and how do you make your voice heard? Read about the new ESPN show that features fan opinions with calls, tweets, polls, rankers and more.
Tim Lincecum's gem against the Rockies Monday night may yet make a race out of the NL wild card, the lone prospect for any sort of September drama in the standings. But if the Giants ace eventually captures his second consecutive Cy Young, Monday's line -- 7 IP, 6 H, 1 ER, 11 K -- may go down as the clincher.
Lincecum has been out in front of the SportsNation voting most of the season. He dominated the midseason Cy Young rankings and had a 46-percent lead on his closest competition, Chris Carpenter, as recently as two weeks ago. But between Lincecum's bad back and Carpenter's amazing second half, the gap had closed to 20 percent last week.
Ryan (Detroit)
What would it take for Verlander to win the Cy Young?
Peter Gammons

I think he'd have to reel off dominant starts from here until the end of the season. As of now Zack Greinke's ERA, quality starts and strikeouts make him very difficult to beat. But Verlander, Felix Hernandez and CC Sabathia are right in the mix. Full transcript