SportsNation Blog Archives

R.A. Dickey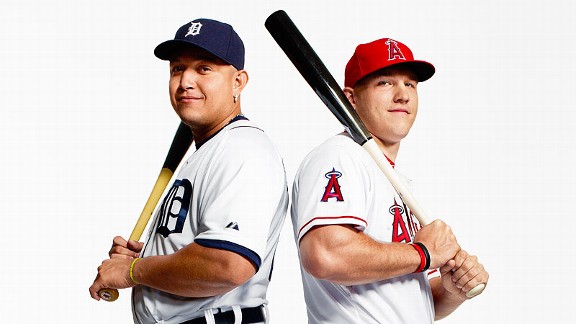 Chris Buck for ESPNMiguel Cabrera and Mike Trout battled it out for the AL MVP vote in 2012.
Voting for the 2013 ESPYS Awards is open, and today we're debating the best player in baseball from the past year. Miguel Cabrera pulled off the first Triple Crown in quite some time, but some stats have Mike Trout's 2012 season as far above Cabrera's. R.A. Dickey and David Price were nigh unhittable last season, and Buster Posey won NL MVP in the same year he added another World Series trophy to his case. Who gets your vote?
Knuckleballers are strange. They throw a pitch that looks like it defies physics, but the reality is far worse; it obeys laws of physics that are probably too complex for you (or us!) to understand. When the knuckler is really moving, it's practically a cheat code; when it's not, well, you only have to look as far as R.A. Dickey's disaster of a season to see what happens. Dickey has been roughed up a number of times this season, possibly because of an inability to throw his formerly dominant hard knuckler. A late-career rejuvenation isn't unusual for a knuckleballer, but neither is a sudden loss of effectiveness, which should make Blue Jays fans nervous.
Steven Seidman: "Dickey was very good for three years for the Mets, but Alderson sold high on him, getting a great return in D'Arnaud, Syndergaard, Buck, and Becerra."
T.J. Koonce: "How is anyone surprised that Dickey is struggling? Look at his career stats. He's had mediocre stats every season except last year. Most overrated pitcher since Barry Zito."
D.J. Van Tassel: "He pretty much always had the knuckleball even with the twins, but it wasn't like it is now. The unastounding thing is that he's struggling in a division with the reigning strenghts of the Orioles, a rejuvinated Redsox team, an overachieving yankee squad, and padding some hope for the always enigmic rays. The Bluejays don't have the coaching staff for a guy like dickey, nor a proper catcher for him."
Antoine Black: "Just another in the long list of pitchers who can be successful in the NL, yet pummeled in the AL. The offensive difference between leagues is larger than a lot of people think."
Darryn Carman: "As a Blue Jays fan I'm not going to deny his season has not been good so far, but if people are going to use the career stats excuse, it's pretty irrelevant to include the years where he wasn't a knuckleballer."
What do you think? Leave your comments below.
---
All about location?
Moving from the NL to the AL has been held as the downfall of many a pitcher, but again, a pitcher who throws a knuckleball may defy conventional explanations.

For a second consecutive start, reigning NL Cy Young Award winner R.A. Dickey failed to find his elite form from a year ago, getting lit up for eight runs (seven earned) Sunday against the Red Sox. Dickey is pitching in the American League for the first time since 2009 and working with a catcher who is unfamiliar with fielding his trademark hard knuckleball. But an 8.44 ERA wasn't what the Blue Jays were expecting when they signed Dickey to a two-year, $25 million extension this offseason. So are Dickey's troubles just early-season jitters, or a sign of things to come in Toronto?
Just_Rad: "Let this be a lesson. Signing people from the New York Mets is the worse thing you can do in baseball...after signing Chicago Cubs"
Chris B72: "Can the Jays use the warrantee on Dickey? Tell the Mets i think Dickey is broken we want our money back."
ktyas310: "if you look at dickeys wins... he beat poor teams like arizona, houston, san diego, mami several time. a win is a win... but thats not exactly the greatest opponents. hes playing better teams now and its not going to be quite as easy"
Runwithit21327: "That's just baseball. Some days you just don't have it."
American League Championship Series 2004: "I am actually starting to agree, last year may have been a fluke year for Dickey... I mean he's almost 40...and no one cared about him before."
Join the conversation or respond by signing in or creating a profile and blogging.
Tony La Russa has selected Matt Cain to start the All-Star Game over R.A. Dickey. Given Dickey's better numbers, is this fair?
oleosmirf: "Very sad. Just a real shame that he's not rewarded for his miracle first-half. Dickey is likely never to be back here and Cain has been here and will continue to be for years."
mnp2957: "Pure and simple....Cain is the right choice. Starting an All-Star game is a real honor that should be earned over time."
tpush67: "If Dickey is such a great story and deserves to start, why aren't more Mets fans out there supporting their team?"
MYMetsies_19: "So when Dickey comes in the game...will La Russa pull Posey? Doubt it."
tim64rusty: "there is no way Cain should start ahead of Dickey.Dickey has been the most dominant pitcher in baseball this year."
pjart: "Wright not starting. Dickey not starting. A double joke. As a Mets fan, why am I watching this game? Oh, wait, I'm not."



Join the conversation or respond by signing in or creating a profile and blogging.
We so love the knuckleball. It's simultaneously the dumbest and smartest pitch in baseball -- you've got no idea where it will go when you release it, and it's practically impossible to teach, but it changes the whole game from baseball to kind of a weird hybrid of slow-pitch softball and misery. R.A. Dickey took a while to master his knuckler, but it has paid dividends this season, as he threw his second one-hitter in a row Monday night against the Orioles. Dickey leads all of baseball in wins, ERA and strikeouts, which is totally insane and also really awesome. Has he made himself into a perennial ace, or is this just a temporary run of dominance?
---
A new ace?
You don't usually come into your own as a pitcher in your mid-30s, but Dickey has had a 2.86 ERA since his age-35 season.

---
Difficult feat?
Only 22 men have thrown a perfect game in baseball history, but only 10 have thrown consecutive one-hitters. It's a bit of a fluky accomplishment but still incredibly rare.

---
Are the Mets for real?
The Mets have been a bit of a joke the past few years, but they've had their share of stellar performances this season.