SportsNation Blog Archives

United States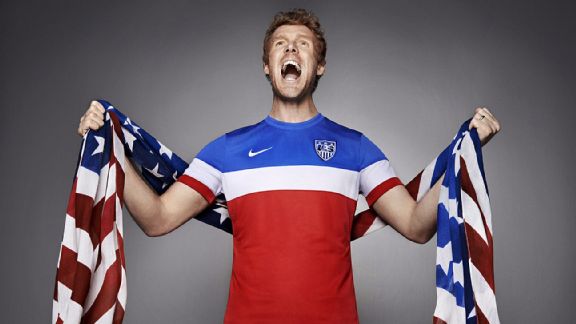 NikeThese are the uniforms Team USA will be wearing when it is the away side in the World Cup.
Art -- true art -- is super hard, you guys. It's not easy to create something that everyone will love and respect; just look at how people reacted to the ending of "How I Met Your Mother" (spoiler alert: negatively). Whoever made Team USA's new World Cup away uniforms should take some comfort in that fact. Red, white and blue are popular flag colors, but seriously, you couldn't have maybe made the uniforms look a little more like the American flag and less like that of, say, the Netherlands or France? Both lovely countries, of course, but neither has Jozy Altidore or Michael Bradley on its team.
USA's win benefits Mexico
The United States and Mexico are fierce rivals on the pitch, but El Tri found itself in debt to its longtime enemy Tuesday night. Mexico's World Cup hopes are still alive after a 3-2 Team USA win over Panama. It'll have to play New Zealand in a winner-take-all match if it wants to attempt a World Cup run in 2014, but for now, it has Team USA's backups to thank for taking their match against Panama seriously.
Dado Ruvic/Reuters

Team USA beats Bosnia

It looked like Team USA's 11-game winning streak was going to come to an ignominious end against Bosnia, as a couple of defensive miscues left the team in a 2-0 hole. That was before Jozy Altidore decided to go absolutely bonkers, however. The red-hot striker scored his second career hat trick, leading Team USA to a 4-3 comeback win on Wednesday. Team USA is humming on all cylinders right now, looking more and more like one of the world's elite teams.

U.S. into Gold Cup final

Team USA's unprecedented run of victories continued Wednesday night with a 3-1 win over Honduras. Landon Donovan scored twice, Eddie Johnson added a third goal, and the whole team in general looked unbeatable. The only downside: coach Jurgen Klinsmann being sent off late in the game for arguing, potentially leading to his absence from the final against Panama on Sunday.

AP Photo/Patrick Semansky

U.S. into Gold Cup semifinals

Team USA hasn't quite faced elite competition yet in the Gold Cup, but supporters of the squad have to be optimistic when considering how well the team has played. Sunday's 5-1 win over El Salvador featured contributions from a number of players, crisp passing, and more evidence that the team is embracing Jurgen Klinsmann's attacking style.