SportsNation Blog Archives

LaDainian Tomlinson
The speed at which a player in the National Football League can go from All-Star to waived is frankly astounding. A few years ago, LaDainian Tomlinson was setting records for rushing touchdowns -- this season, he had to search for a job before rejuvenating his career with the Jets. A few years back, Randy Moss was setting records for receiving touchdowns with the Patriots -- this season, he's found himself traded and waived within the space of a month.
It's Shawne Merriman's turn to tumble from his perch. A few years back, Merriman was one of the most feared pass-rushers in all of football. Now, he's been placed on waivers by the Chargers. The move comes as no real surprise -- San Diego had announced that they would release Merriman after he came off the injured reserve list -- but the idea of such a defensive force as Merriman having to look for a job is a bit disconcerting. We're sure some team will give him a chance -- and that team is the Buffalo Bills.
Brad (Beverly, MA)
Do you think Merriman's lack of productivity is due to steroids? Ever since his suspension he hasn't been the same, but you never hear anyone mention it. If he were playing baseball that is all you would hear.
Chris Mortensen
I've heard it discussed with Merriman. But the injuries have also deterred him. Of course, there are experts on PEDs who say that injuries are a byproduct of usage. However, Merriman has been tested frequently and randomly year-round since his steroid positive and he has tested clean. Full transcript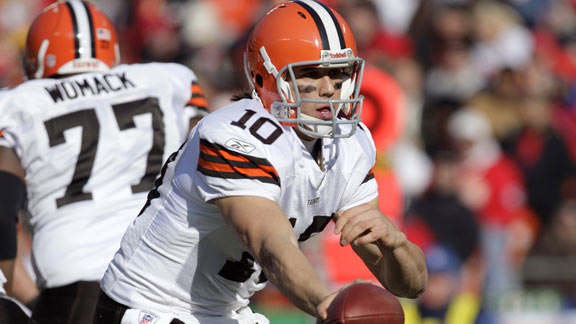 The Jets sign a future Hall of Famer in LaDainian Tomlinson, and he might not even be the best player they got from the Chargers this month. The Browns? Well, we imagine season tickets are just flying off the shelves with Seneca Wallace and Jake Delhomme in the house.
Mike Holmgren is in charge of the Browns, but a Browns fan says the faithful in Cleveland are used to channeling Norman Dale when it comes to authority figures. As in, "I would hope you would support who we are -- not who we are not." So is Eric Mangini Shooter?
"Then they traded for Seneca Wallace, who seemed to be good at little more than keeping the curtain up. Fine. A backup. All right. Then came Jake Delhomme, a veteran who's best days are likely behind him. A better backup, maybe? Put Brady on the trading block to keep him on his toes, or if someone can be duped into overpaying for him. ... But this? A sixth in next year's draft, a conditional pick in 2012 and a fullback? What are you going to get with that sixth round pick? A backup safety? That's what our hopes were worth?" -- Read SNight322's full post.
"

Statistically, Tim Couch was a better QB over his first 14 games than Quinn has been. Sad but true.

"

-- Henta469
"

LT is a much better receiver out the backfield than TJ and it would not surprise me if he gets most of the downs as the lone back on passing plays. I can only imagine how much more damage he can do given the chance to work behind the Jets O-line.

"

-- heyjacleu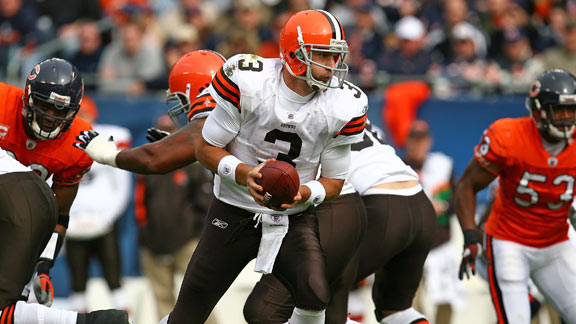 Derek Anderson didn't hesitate to burn bridges while leaving Cleveland. Then again, in a place where the rivers used to catch on fire, people are used to that sort of thing. After the Browns released him, Anderson labeled Cleveland fans "ruthless" and said he couldn't wait to come back through town (he's since apologized). The Cardinals don't play in Cleveland next season, but would Anderson fit throwing to Larry Fitzgerald? That's one question we've got for you, with some insights provided by ESPN's NFL bloggers.
Chad (Luke AFB, AZ)
Whats your take on the Browns picking up Wallace? Do you really think he will give Quinn a fighting chance for the starting job?
James Walker

The trade tells me Holmgren is going to put in principles of his West Coast system. The team has yet to admit that publicly. As far as a QB competition, Holmgren is trying to avoid it this year. So Quinn will either be traded or the team will make a predetermined choice on who starts before training camp. Full transcript
Griff (MN a.k.a. Southern Canada)
Bill Williamson just reported that the Vikings are showing interest in L.T. That said, which of the FA RBs, in your opinion, would be the best fit for the Vikings?
Kevin Seifert

If he's healthy, Brian Westbrook might be the most ideal fit. But the concussion situation is awfully worrisome. Full transcript
Dave (Columbus)
Do you think Cleveland should dump Quinn and start over at QB? With Quinn being a semi-local kid, there's always going to be a QB controversy among fans while he's there.
Lomas Brown

I think they should dump the QB that they can get the most value for. Look to go in a different direction. I haven't seen anything out of Quinn or Anderson, even though they're young, to make me think they are going to be franchise QBs. Full transcript
It's not a good month to be a formerly-dominant NFL running back. First, LaDainian Tomlinson got the boot from the Chargers; now, Brian Westbrook is getting the same treatment from the Eagles.
Westbrook has been plagued by concussions in recent years, including one this season that put his career in jeopardy. Still, when healthy, he's a dual-threat, dangerous out of the backfield as a rusher or receiver. That's one big IF, however.
Westbrook and Tomlinson aren't the only veteran free agents on the market, as big names like Julius Peppers and Terrell Owens could make an impact on a contender. Only one thing is certain; the Eagles are left with a huge hole to fill.
J.B. (Dunmore, PA)
M-Dub: With Westbrook now out in Philly, can you see Andy Reid actually giving McCoy a chance to run the football?
Matt Williamson

No. His role will grow. Weaver should remain in the mix and they will prob add another RB in the draft. But, as always, they are going to throw and throw a ton. McCoy needs to improve on his protection, but you need to remember, that this is still a very young player-came out as a Soph. Full transcript
Steve (Atlanta, GA)
Do you think Westbrook will find a home or is he destined to retire this year?
Matt Williamson

Can he pass a physical? Will a doc clear him with his concussions? Could see him as a 3rd down RB still, but not an everydown guy. Full transcript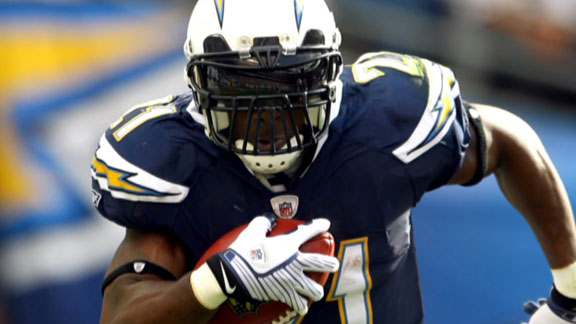 You talked yesterday about what the future may hold for LaDainian Tomlinson in the wake of the league's ninth leading rusher all time getting his walking papers from the Chargers, but the morning after brings a chance to think about LT's place in history (and not just because, as John Clayton suggests in the video above, there aren't any guarantees he has a future in the NFL).
Tomlinson once seemed like a lock to break the all-time rushing record, but now he'll need to find more than 1,600 yards somewhere just to claim fourth behind Emmitt Smith, Walter Payton and Barry Sanders. All the same, for about seven or eight years, the guy dominated the league. So whether you measure against Smith's longevity or the brief dominance of guys like Sanders and Jim Brown, where does Tomlinson stack up among the best ever?
Back to the present, Matt Williamson and KC Joyner looked at Tomlinson's situation in recent chats, and one SportsNation blogger is bummed at how things went down.
"The Chargers should have at least tried everything they could to bring him back not only as a part of a package with either Darren Sproles and whoever they pick up in the upcoming NFL Draft. I have never liked GM AJ Smith. It seems like he will do whatever it takes to run the marquee players (see Drew Brees, and now Tomlinson) and a coach (Marty Schottenheimer) who lost to a guy (Tom Brady) who won three Super Bowls in favor of his own guys." -- Read the TimValenzuela's full post.
Mike (Iowa City)
What about possibilities of LT coming to the Bears?
ESPN NFL Insider KC Joyner

Only question is why would the Bears want him? He has very little tread left on the tire. He'd be a great fit for a team making a Super Bowl run that only needs him for spot play (maybe as a RB/WR or GL specialist). Full transcript
Dallas (Chicago)
Do u think darren sproles is the legit rb now that lt is going away? if not who do u see the chargers replacing lt?
Matt Williamson

No. I see Sproles as a nice guy to have, but a complementary piece. They need a heavier guy to carry the load and establish a physicality on that offense. Make play action work. I am not positive who that guy is though right now. I don't like Dwyer that high. Maybe trade down a smidge and take that monster from Stanford? Not sure of the fit just yet. He doesn't fit my description to a T, but I like Chester Taylor a lot. Full transcript