SportsNation Blog Archives

Demaryius Thomas
Demaryius Thomas will always be linked to Tim Tebow for their 80-yard touchdown play to beat the Steelers last season, but Thomas is concerned that's all people will remember of Tebow's time with the Broncos. Thomas said that he wasn't sad Tebow was gone, as there was more to the quarterback's narrative than simple big plays. We've collected some of Thomas' choice quotes below. Is he off base, or was there less to Tebow Time than met the eye?
---
Good for Broncos?
"You would have people calling him out saying, 'Tim, you gotta make that throw. You gotta read the defenses better. Players on offense trying to get him better."

---
Media circus?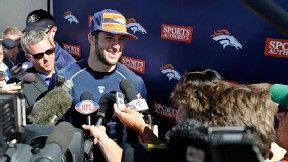 "Everything on ESPN was all about Tim. That bothered some players, too, because they would say, 'Tim Tebow Time.'"

---
Sole responsibility?
"I felt like it was a team thing. If it wasn't for the defense most of the time, there wouldn't be no supposed 'Tim Tebow Time.'"