SportsNation Blog Archives

Jimmy Clausen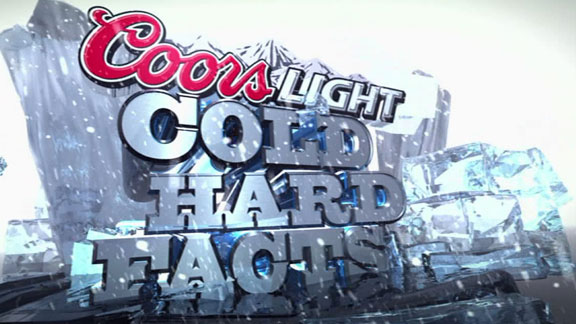 Whatever else you want to say about LeBron James (keep it clean, Cleveland), the guy knows how to build drama. Even with reports surfacing before his televised spectacle that he would sign with the Heat, there was some genuine uncertainty about what would come out of his mouth that night. As for Brett Favre's future plans? Let's just say the sequel isn't playing out with quite as much suspense as last summer's original.
Only 18 percent of SportsNation voters think there is any uncertainty, with 3 percent convinced he's retiring and 79 percent convinced he's coming back. But as ESPN.com's NFL bloggers prove, there are always plenty of more intriguing questions to ponder.
1. Is Bob Sanders still an elite NFL safety?

Paul Kurhasky blogs: "Safety Bob Sanders only played in two games last season, the first for Larry Coyer as the Colts' defensive coordinator. Defenders loved that Coyer started incorporating some blitzes, something the team almost never did under Ron Meeks. I imagine Sanders as a scary blitzer who will get his chances for shots at quarterbacks." | AFC South blog | Vote
2. Will Joe Flacco and Anquan Boldin be the AFC North's best combination?

James Walker blogs: "That's where Boldin comes in. His job is to become the No. 1 target for third-year player Joe Flacco, who is trying to become one of the NFL's better quarterbacks. Boldin's presence also should take some of the pressure off Pro Bowl tailback Ray Rice and the running game." | AFC North blog | Vote
3. Is Laurence Maroney the answer or part of the problem?

Tim Graham blogs: "Maroney has never been able to rush for more than 835 yards in a season. He's averaged 3.9 and 3.3 yards a carry in 2009 and 2008, respectively.
This is the final year of Maroney's contract and if he doesn't start to live up to his first-round selection -- the 21st player selected overall in 2006 -- the Patriots will be looking to draft a back in 2011." | AFC East blog | Vote
4. Is Vernon Davis the face of the 49ers franchise?

Sacramento Bee's Matt Barrow via Mike Sando's blog: "Davis, it seems, has become the 49ers' go-to player not only when they need a touchdown on the field but when they need to sell the team and the league off of it. And why not? He's confident (just ask him), he's good-looking (just ask him), he's eager to please and he has a seemingly inexhaustible supply of energy." | NFC West blog | Vote
5. Will Jimmy Clausen start for the Panthers this season?

John Clayton blogs: "Clausen, as a quarterback prospect, is just what the Panthers have been looking for as a replacement for the departed Jake Delhomme. He's smart, talented and comes from a big-time school in Notre Dame. But [Panthers coach John] Fox doesn't have the luxury to think long term. Despite his success, Fox is in the final year of his contract and there is a good chance he could leave after the season. Fox must win now, which can be difficult with a rookie quarterback. " | NFC South blog | Vote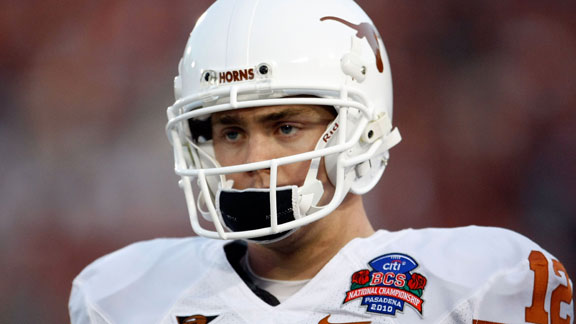 We can only assume that after completing Monday's chat with SportsNation, Mel Kiper has already been spirited away to a secret, undisclosed location to continue breaking down film on Delaware quarterback Pat Devlin and Northeastern running back John Griffin (yes, we've been playing with Colonial Athletic Association stats again). The 2010 NFL draft is in the books, grades have been handed out and now the real fun begins -- contract negotiations!
SportsNation bloggers were particularly roused by the four big-name quarterbacks selected in the first three rounds.
Eric (Chicago)
Mel, what did you think of the Dan LeFevour pick to the Bears? I thought all along he was the 2nd best QB in the draft.
Mel Kiper
I liked the Bears draft. I liked the pick. I think 3-4 years down the road he can help you. You'll know in the next two years if Cutler is the answer there. I like the Wright pick, they needed help at safety. Wootton was a first round pick a few years ago, but had the injury. I gave them a B grade. Full transcript
Clay (Charlotte)
Mel, can you give us some insight on why the Panthers drafted Clausen and Pike? I think Clausen was a steal, but why draft two developmental QBs?
Mel Kiper
Where you get Pike, you invest minimal time and money into him. You can always develop a young QB and trade him. You can develop him and turn him into a career backup. If they had a 2-3 round grade on Pike and he was there in the 6th round, they might have just decided to pick another QB. He's a good QB. He's got the height. He has a lot to learn after coming out of the QB friendly system at Cincinnati. Full transcript