SportsNation Blog Archives

Aaron Hernandez
The ''breath of fresh air'' storyline is a pretty common one whenever a struggling team gets a new coach. It generally goes like this: The old system that the previous (unsuccessful) coach used was a busted relic, while the system the new (and hopefully successful) coach is cooking up is a work of genius. Most of the time, it's pure hype, but in the case of the Eagles, who seem to be buying into Chip Kelly's fast-break system, there might be something to it. Kelly already has influenced pro offenses with his hurry-up style devised when he was Oregon's coach. We would appreciate you not bringing this up a year from now, in the event Kelly's offense doesn't quite translate to the NFL.
SteebTehWooper: "really excited to see this offense. will it work in the nfl? we'll see. but if you were to think of anyone in the nfl to run this, vick, mccoy, jackson, that's a great core as long as they stay dedicated. and don't fumble lol"
MacUngieMan: "More of these uptempo offenses. Just great. I for one miss the I formation and power football. High scoring and porous defenses does not necessarily equate to good football."
tholar: "Name the last time Kelly was NOT successful. Think the Pats did ok last year using some of Chip's offence. Think the master can't do better? Go ahead bet against him "
Detroit Cop: "name one time a college style offense has translated to the NFL. i can only think of one, the wildcat. boy did that have staying power"
please take les miles from us: "his offense will be average at best. dont forget he was playing agaisnt those 'tough' Pac-12 defenses"
ChupaFatBoy: "Kelly's offense is a read offense, basically 3 formations and 3 reads out of those formations.....difference is that NFL defenses are a lot faster than the PAC-10 sieves Oregon faced every week."
Join the conversation or respond by signing in or creating a profile and blogging.
---
Improved Eagles?
Last season's Eagles looked demoralized as they went 4-12, but a new game plan could turn them around quickly, considering the talent they possess.

Normally, the Patriots are pretty strong at tight end -- one might argue that they have the best 1-2 punch in the league -- but there's reason for concern heading into this season. Rob Gronkowski's battling a mysterious arm infection, and Aaron Hernandez will miss significant time in the preseason after having shoulder surgery. It's difficult to imagine the modern Patriots without a huge emphasis on their tight end passing game, but they might have to make do if neither player can stay healthy.
syncratic77: "A lot of TEs struggle to stay healthy, but this is getting tough for the Patriots. Hernandez and Gronk are the best 1-2 combo in the NFL... but only if they play consistently. And without a dominant WR, the Pats really need those guys this year."
ezathlete: "I have no doubt that Gronk, Hernandez, and Amendola will play 16 games...total."
thelastword11: "So Belichick now has 4 players he will put on the injury report for every week next season. Hernandez, Gronkowski, Edelman and Amendola."
tom_tom21: "Gronk has spent a good chunk of the last 2 years dealing with injuries as has Hernandez. Yea, Amendola will fit right in. Now instead of 2 injury risks and a rock the pats have 3 injury risks."
d9drummer1: "TE's are important but when was the last time the leading TD reciever won a SB? The Pats should do what they have been doing the past 8-10 years with or without Hernandez and Gronk."
shawnthefan1: "Pats need to draft a tight end early even though Hernandez & Gronkowski are beast they are always injured would be for insurance."
Join the conversation or respond by signing in or creating a profile and blogging.
---
Patriots' outlook?
The modern Patriots are nearly always on the short list of preseason Super Bowl contenders, but if their tight ends are at less than 100 percent, they might be in for a disappointment.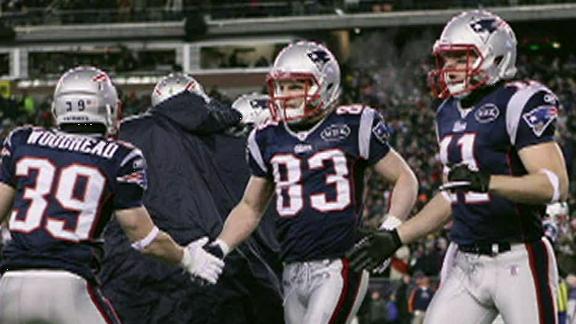 The Patriots have signed Aaron Hernandez to a long-term deal, notably before they gave Wes Welker anything of the sort. Welker has been Tom Brady's primary target in recent years, but is this a sign that he has been moved down the receiver heirarchy?
x_Boston_x: "Congrats to Hernandez... Sorry for Welker... He's a class act and put in all the work, then signs the tender hoping it would get something going for him and then just to be slapped in the face... I hope he still plays his heart out, Welker and Brady should retire together and go down as the best QB/WR tandem."
teamjordan2345: "Just as Randy Moss learned, Wes Welker will too. The writing is on the wall; he's not going to get the contract he wants in NE. The youth movement has begun."
wrigleyfield123: "can't stand the patriots, but they will redefine the TE position over the next couple of years with these two. And they are hard core, won't give welker an extension but will to both of their young TE in the same year."
Khanivore: "Hernandez is a much better player than Welker so of course we pay him and jopefully trade Welker or let him walk somewhere else. Not a huge market for short and slow WR's who specialize is short yardage passes."
farnsworthcollinstruffle: "Welker is and has been a consumate professional. That being said, his value isn't as high if he leaves the Patriots and both the Patriots and every other team in the league know this, hence the fact that Welker signed the tender."

Join the conversation or respond by signing in or creating a profile and blogging.