SportsNation Blog Archives

Barry Bonds
Today is the 40th anniversary of Hank Aaron's 715th home run, which placed him on top of the all-time career home run list. Aaron held the record until Barry Bonds broke it in 2007, although due to allegations that Bonds used performance-enhancing drugs, some consider Aaron's record to be the real one. Regardless, can you name the top 10 career home run leaders in MLB history?
Barry Bonds, baseball's all-time single-season and career home run leader, has a new career as a roving hitting instructor for the Giants. That much isn't surprising -- though his name was connected to allegations of steroid use, Bonds is in the argument for the finest hitter of all time. Also unsurprising is the fact that he believes he belongs in the Hall of Fame. Bonds has hovered below 40 percent in his two seasons on the ballot and faces a strong uphill battle for induction, but given that he has over a decade still on the ballot, there's plenty of time for a reappraisal of his storied and controversial career.
Below is a sampling of the Facebook conversation on this story. Be sure and join in!
Bart Wilhlelm: "I couldn't stand Bonds as a player, but I always respected the natural ability that he DID have. It's nice to see that baseball is starting to tap the knowledge of some of these elite hitters like Bonds and Mark McGwire."


Bucky Page: "I'm glad he's back in the game. The past is the past and he definitely made mistakes, who hasn't? At the end of the day, Bonds had more talent than just about any player who has ever played."


Bobby McCarthy: "Guys, we now know from the Mitchell Report, dozens of anonymous player interviews, the Biogenesis investigation, various books and magazine articles, and the league's drug testing records that the vast majority of ballplayers from the late 80's until now were on steroids. Singling out Bonds at this point is just childish. He did what almost all of his colleagues were also doing, he was just better at it."


Steve Zied: "Which is the best muscle to inject in? What is the best way to cover up? How can you lie with a straight face? What's it like ruining the most coveted records in all of sports? Just some of the questions the never will be Hall of Famer can answer."


Frans Dorris: "Helping, or interacting with other players , was never his forte! Why start now?"


Tom Anderson: "Until he is forthcoming about his PED use (about which there is no doubt whatsoever if you look at his physical changes, statistical changes, etc.), he will not be welcomed back with open arms.
Won't this year's Hall of Fame ceremony be grand? We can't wait to go and watch absolutely no one give a speech -- because the Baseball Writers' Association of America let no one in this time around. Only Craig Biggio and Jack Morris came close to the 75 percent threshold necessary to get one's face on a plaque in Cooperstown. Clearly, the issue of performance-enhancing drugs is tainting the process in some way; Roger Clemens and Barry Bonds would have been surefire first-time inductees had they not been connected to steroids. The spectacle of an empty induction year might force the Hall of Fame into making some sort of change.
Ballot: Which top vote-getters from this year's class will eventually make it in?
Vote: Will more worthy candidates create a Hall of Fame logjam?
---
A different process?
Some voters submitted blank ballots. Other voters picked single, strange candidates. Others didn't vote at all.

---
A minimum requirement?
We could theoretically see a year in which there were no deserving candidates, but several exceptional players were on this ballot.

---
Destigmatize PEDs?
Mark McGwire was on 17 percent of ballots this year, but he won't be the last player connected to PEDs to be on the Hall of Fame list.

---
New definitions?
Voters have expressed some confusion over how to treat players with possible connections to PEDs, which may explain Roger Clemens and Barry Bonds' low numbers.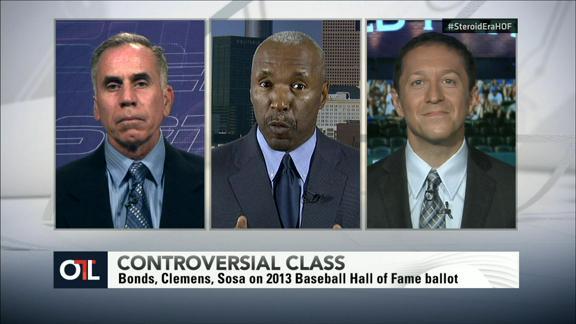 Barry Bonds has no doubt that he's a Hall of Famer, and if you just went by the numbers, there would be no question. Bill James once said of Rickey Henderson that if you split him in two, you would have two Hall of Famers, but with Bonds, it might even work if there were three of him. The only issue is, there's all that other stuff to consider: the allegations of performance-enhancing drug usage and the like. It's affected Mark McGwire's Hall of Fame case, but will it affect Bonds' as well?