SportsNation Blog Archives

Jake Delhomme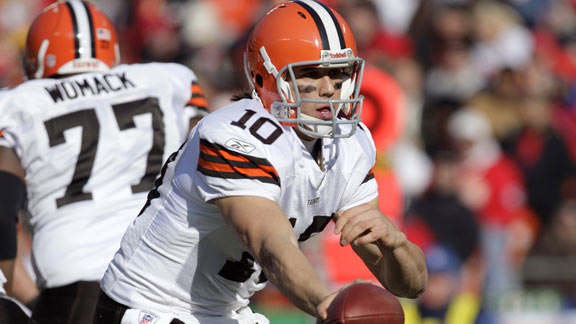 The Jets sign a future Hall of Famer in LaDainian Tomlinson, and he might not even be the best player they got from the Chargers this month. The Browns? Well, we imagine season tickets are just flying off the shelves with Seneca Wallace and Jake Delhomme in the house.
Mike Holmgren is in charge of the Browns, but a Browns fan says the faithful in Cleveland are used to channeling Norman Dale when it comes to authority figures. As in, "I would hope you would support who we are -- not who we are not." So is Eric Mangini Shooter?
"Then they traded for Seneca Wallace, who seemed to be good at little more than keeping the curtain up. Fine. A backup. All right. Then came Jake Delhomme, a veteran who's best days are likely behind him. A better backup, maybe? Put Brady on the trading block to keep him on his toes, or if someone can be duped into overpaying for him. ... But this? A sixth in next year's draft, a conditional pick in 2012 and a fullback? What are you going to get with that sixth round pick? A backup safety? That's what our hopes were worth?" -- Read SNight322's full post.
"

Statistically, Tim Couch was a better QB over his first 14 games than Quinn has been. Sad but true.

"

-- Henta469
"

LT is a much better receiver out the backfield than TJ and it would not surprise me if he gets most of the downs as the lone back on passing plays. I can only imagine how much more damage he can do given the chance to work behind the Jets O-line.

"

-- heyjacleu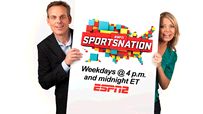 Michelle Beadle and Colin Cowherd can clinch the division title today on "SportsNation" TV.
Argue the hot topics of the day and vote on the biggest stories from the world of sports. The show airs on ESPN2 at 4 p.m. and midnight ET.
Note: Broadcast voting results as of this afternoon (ET).
Who is under more pressure to win tonight?
Tony Romo made some mistakes in the Cowboys' loss to the Giants. Jake Delhomme doesn't have a win this season.
Did you expect Brett Favre to pull out the win for the Vikings yesterday?
The Vikings trailed by 4 when they got the ball back with 1:29 to play. 1:27 and 80 yards later, Favre's TD pass to Greg Lewis won the game.
Which New York football team put on a more impressive performance?
Both are 3-0. The Giants shut out the Bucs. The Jets took the lead, gave up 17 unanswered points and then retook the lead.
Was it reasonable for Tim Tebow to be on the field with a 31-7 lead?
The Gators had the game in hand when their star quarterback suffered a concussion that caused him to spend the night in the hospital.
What did you think of the questions asked of T.O. after the Bills' loss?
Owens' response for a number of questions: "I'm just going with the plays that are called." Read a transcript of the news conference.
What is "SportsNation" TV, and how do you make your voice heard? Read about the new ESPN show that features fan opinions with calls, tweets, polls, rankers and more.
After a season-opening loss, there's no shame in admitting your NFL team has seen better days. After all, everyone loses at some point -- the Giants dropped their opener in 2007 and went on to win the Super Bowl. It's just a little embarrassing to admit your team had those better days with Chris Weinke and Jim Miller at quarterback.
Almost a month before the regular season, SportsNation rated NFL quarterbacks and pegged Jay Cutler at No. 10 and Jake Delhomme at No. 17. But after Week 1 of the season, four was the number that mattered most for both, as in the number of interceptions each tossed in losses to the Packers and Eagles, respectively.
So after the Windy City's new golden child threw more interceptions in one game than Kyle Orton has in 33 of 34 career appearances, is it time to panic? (Update: Wait, Brian Urlacher is out for the year? Now it's time to panic).
"

What a disgrace! Jake D. and John Fox need to be released asap. There is too much talent on this team, and to let it go to waste over a terrible QB like Jake who cannot manage an NFL offense. Carolina can do better than Jake D, I'm praying they release him at the end of this season regardless of how Carolina does.

"

-- bigmikejames5
"

4 picks and a QB rating of 43!!!! WOOOO HOOOOO, huh, Bears fans???? Cutler has you on the way to the Super Bowl already! Thanks for getting out of Denver!

"

-- THEBOOTGUY