SportsNation Blog Archives

Tim Thomas
---
Selfish act or principled stand?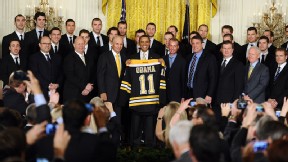 Conn Smythe winner Tim Thomas wasn't with the Bruins when they visited the White House to be honored as Stanley Cup champions. Thomas explained his political objections on Facebook.

---
Is there a right time to speak out?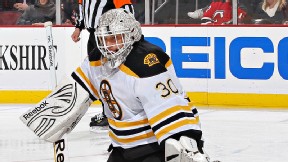 Whether it's visiting the White House or the recent controversy about the MLB All-Star Game in Arizona, should athletes make political statements?

---
Is Thomas still the best goalie in town?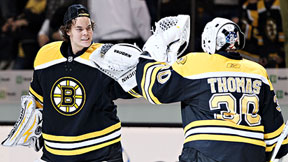 Thomas was also notably absent in a weekend showdown against the Rangers, as the Bruins opted instead for Tuukka Rask (above, left).

Earlier this week, Tony Kornheiser joked on "PTI" that Sidney Crosby ought to pull up to Alex Ovechkin's house and honk away until his rival came out to admire the Stanley Cup. The only problem is Ovechkin could now answer the door with his arms full of Hart Trophies.
A week after the Penguins stunned the Red Wings in Detroit, NHL luminaries gathered in Las Vegas (Las Vegas?) to hand out the season's other hardware. Winners included Columbus goalie Steve Mason as top rookie, Boston's Zdeno Chara as biggest human on skates (and best defenseman) and fellow Beantown resident Tim Thomas as top goalie.
They also included Ovechkin, who became the first player since Dominik Hasek more than a decade ago to win the Hart Trophy in back-to-back years as the league's MVP. And in SportsNation's eyes, winning the top individual honor twice by the age of 23 is more impressive than captaining the Stanley Cup champions at 21.
"

Malkin is the best player in the game today when you take everything into consideration (Crosby 2nd, Ovechkin 3rd). Ovechkin is the best offensive player in the NHL and I love how he hits and plays physical, but he can't play a stitch of defense. Crosby is a great player and can play all around, but his defense is just solid at best and his finishing skills need work. Malkin needs work on his finishing as well, but is ahead of Sid in that regard and he has really stepped up his defensive efforts over the past 2 years - especially the past 4 months.

"

-- skas412
"

If it were an award for point scoring- there wouldn't be voting. If it were an award for not turning it over- there wouldn't be voting. If it were an award for shooting percentage, shots taken, or assists- there wouldn't be voting. It is a SUBJECTIVE award based on perceived value to a players own team. In theory, a player could win the award without scoring a single goal- so don't throw individual stats out to compare.

"

-- vweaver69