SportsNation Blog Archives

Eric Bledsoe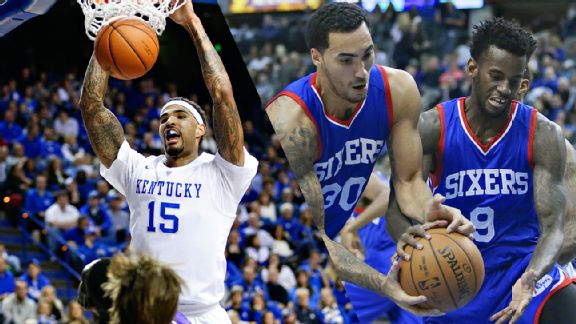 Getty Images
On a Wednesday SiriusXM NBA Radio appearance, Phoenix Suns guard and former Kentucky Wildcat Eric Bledsoe said his school -- fresh off a 72-40 dismantling of the fifth-ranked Kansas Jayhawks -- would beat the 0-11 Philadelphia 76ers in a seven-game series.
"I'm definitely taking Kentucky," Bledsoe said when presented with the scenario. "I think Philly would probably get maybe one game."
Bold statement. Philadelphia indeed is terrible and Kentucky appears to be great. But would a cast of current NBA players really lose to future ones?
(Side note worth mentioning: The Suns play at Philadelphia on Friday.)
Barry Gossage/Getty Images
NBA 5-on-5: Phoenix Suns
After free-falling from the freewheeling Steve Nash/Mike D'Antoni era, the Phoenix Suns are finally seeing the cloud cover lift. Oh, it won't be pretty in 2013-14. But with Eric Bledsoe in the fold and a high pick virtually guaranteed in next year's deep draft, Suns fans can at last look to the future. What does the immediate future hold? The NBA 5-on-5 guys had their say, and now it's time for SportsNation to weigh in.
Getty Images

NBA Free Agency

The NBA's free-agency period is underway, and although deals cannot be made official until July 10 there's already been plenty of wheeling and dealing. Which teams have helped themselves and which have flopped this offseason? Tell us what you think. Vote now!

With free agency period set to begin July 1, teams are taking a good look at their rosters and deciding which players should be kept and which should be dealt. The NBA 5-on-5 crew analyzed some of the most notable names on the market and debated who will be packing their bags this summer. What's your take? Vote below and join the conversation.

---

Trade or keep: Eric Bledsoe?

2012-13 stats: 8.5 PPG, 3.1 APG, 3.0 RPG

---

Trade or keep: Garnett and/or Pierce?

Garnett 2012-13 stats: 14.8 PPG, 7.8 RPG
Pierce 2012-13 stats: 18.6 PPG, 4.8 APG, 6.3 RPG

---

Trade or keep: Luol Deng?

2012-13 stats: 16.5 PPG, 3.0 APG, 6.3 RPG

---

Trade or keep: DeAndre Jordan?

2012-13 stats: 8.8 PPG, 7.2 RPG, 1.4 BLKPG

---

Trade or keep: Rajon Rondo?

2012-13 stats: 13.7 PPG, 11.1 APG, 5.6 RPG

Doc Rivers to the Clippers?

Doc Rivers has been the most successful Celtics coach in a long time, but he soon might be taking his talents to Los Angeles. The Clippers and the Celtics are discussing a move in which Boston would allow Rivers out of his three-year contract to sign with Los Angeles. Boston would send Kevin Garnett to the Clippers and receive DeAndre Jordan and a future first-round pick, although the Celtics are insisting that Eric Bledsoe be included in the trade as well. Would acquiring Rivers be worth two of the Clippers' young stars?