SportsNation Blog Archives

John Wall
We might have some new NBA playoffs bulletin-board material! At least, if the Cleveland Cavaliers and Washington Wizards meet in the Eastern Conference finals.
It comes from Game 4 between the Wizards and the Atlanta Hawks, in which Washington star John Wall sat out with a wrist injury, and wore this number: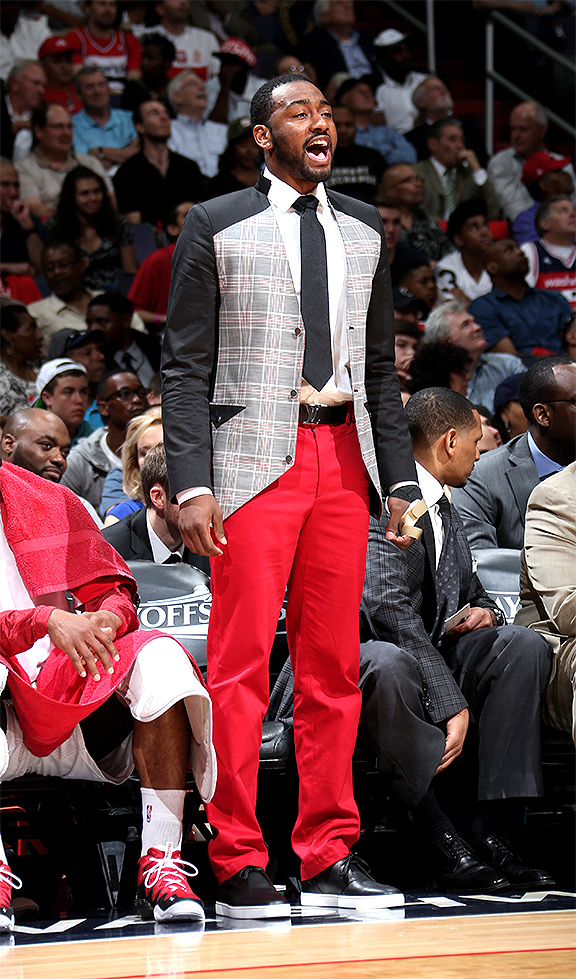 Ned Dishman/NBAE/Getty Images
Loud, yes. But hey, it's the NBA, where we've come to expect such a thing. Bold is beautiful, so live and let live -- oh wait.
#JWall your suit tho! #Turrrbile #WorstThenCrCharlesDraftSuit

— JR Smith (@TheRealJRSmith) May 11, 2015
What was he thinking? https://t.co/bu2jUwrrx9

— JR Smith (@TheRealJRSmith) May 11, 2015
Insert blushing, bulging-eyed emoji here.
Now, we're no fashion experts. So we're just going to leave this here and let you decide whether the Cavs sharpshooter has any room to speak.
Thanks ladies! RT @CavalierGirls: Congrats @TheRealJRSmith looking good sir! #AllStarAllStyle pic.twitter.com/WXJRPIZIm5

— JR Smith (@TheRealJRSmith) February 15, 2015
H/T For the Win
Happy Mother's Day! Here's hoping you sons out there didn't forget. A number of athletes sure didn't, taking to social media to share photos and deliver special messages to some of the most important women in their lives.
Kevin Durant, whose emotional NBA MVP acceptance speech included much love for his mother, Wanda Pratt, shared this powerful image before his Oklahoma City Thunder took on the Los Angeles Clippers in Game 4 of their Western Conference semifinal:
Teammate Russell Westbrook was among many other NBA stars to take time out -- some from their still-active playoff runs -- to show their love. Also among them: Paul George, the Indiana Pacers All-Star whose mother, Paulette, suffered a stroke when he was 10.
In the NFL, Seattle Seahawks Pro Bowl safety Earl Thomas paid tribute to his mother, Debbie, a cancer survivor who was diagnosed two years before Earl was born (she calls him her "miracle baby"):

San Francisco 49ers quarterback Colin Kaepernick sent a greeting to his mother and sister, while teammate NaVorro Bowman got his mom quite the gift:
Newly minted draft picks Sammy Watkins and Carlos Hyde joined NFL players Cameron Jordan and Chance Warmack in talking about their favorite mom-related memories:
Courtesy of Relativity Sports
And on the baseball diamond, where teams throughout Major League Baseball are using pink balls, bats, cleats and other accessories, the Milwaukee Brewers' Carlos Gomez went an extra step to show love for all the moms of the world:
The field for the 2014 NBA dunk contest reportedly has been confirmed, with Paul George, Damian Lillard and John Wall hoping to join the list of stars who also won the event. But this competition, of course, isn't all about big names; last year's winner, Terrence Ross, is back to defend his title, Harrison Barnes and Ben McLemore round out the 2014 field, and the list of past winners certainly contains some eyebrow-raisers.
We gave you one already. How many of the past 15 champions can you name?
Note: There was no dunk contest in 1998 or 1999.
• Rank 'Em: 2014 dunk contest participants
More games from ESPN Arcade »