SportsNation Blog Archives

Terrell Owens
Terrell Owens' NFL comeback might have been brief, as the veteran wide receiver announced via Twitter that he'd been cut by Seattle. In two preseason games for the Seahawks, Owens dropped an excessive number of catchable balls and had just two receptions for a total of 40 yards. Was this T.O.'s last chance to make an NFL roster?
moskoni77: "He's done. No player ever wants to admit or come to terms with it. He had a great career. Hang it up already."
abzandercole1: "I was looking forward to watching him play this year... Too bad. Good luck T.O. At least he showed some professionalism in his response to being cut. Maybe he can help out some other team this year."
kblaw1: "too many drops in the pre season. They don't show those in the highlights. And He don't play special teams... "
ksittnick: "Wanted it to work out, but he was TERRIBLE in the two weeks we had him on the field. Hands of rocks, and Edwards outplayed him by a mile."
sportsInput: "This may be it for TO. Another good sign of the diva era of WRs coming to an end."

Join the conversation or respond by signing in or creating a profile and blogging.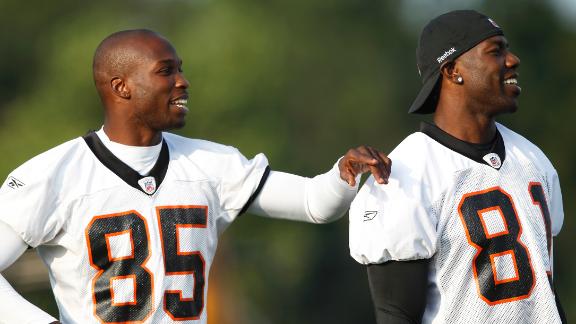 On Thurday, "First Take" debated which new wide receiver will have the biggest impact on his new team. Randy Moss, Terrell Owens and Chad Johnson have either struggled of late or been out of football entirely, but they're all looking to recapture their talent this season. Christian Fauria thinks Moss will make the 49ers real contenders, but Skip Bayless isn't so sure -- he has Chad Johnson as his sleeper pick. What's your take?
Tags:

NFL, Miami Dolphins, San Francisco 49ers, Seattle Seahawks, Chad Johnson, Randy Moss, Terrell Owens
We've been feeling kind of bad for Terrell Owens as of late -- he obviously wanted to get back to the NFL and sounded awfully down about the whole thing. He'll likely get his second (or third, or fourth) chance soon, as he has agreed to a contract with the Seattle Seahawks. T.O. joins a team that rarely has been known for its passing acumen, but likely starter Matt Flynn could be just what the Seahawks need to make it work with Owens. Will Seattle regret this signing, or is Owens the answer?
---
Can Owens behave?
Terrell Owens never has been known as a particularly tactful person, but it could be back to arena football for him if he becomes a significant distraction in Seattle.

---
Better than 2010?
Owens' 2010-11 season was relatively productive, if a bit off his typical level of performance.

CrazyCanuck71872: "At what point do the Seahawks go from 'exploring all their options' to crossing that line into picking through the NFL dumpster? I'm a lifetime Hawks fan (about 35 years) and I'm beginning to wonder. Many fans have thought or said the following: OK Pete, we hope you know what you're doing."
1dcow1: "Seahawks fans should ALL be happy to sign him. He will be your #1 receiver. I think he has been a bit humbled. He is an excellent wideout who gives full effort in practice and games. I think his headache days are behind him, although he didn't really have a choice about it."
snowball9280: "As a Seahawks fan I'm terrified. The seahawks are trying out recievers left and right, and I sure hope T.O doesn't become a Seahawk."
sunburn74: "Sign him already. He's no longer the locker room problem, needs the cash, and is at least the 2nd best receiver on the seahawks if not first."
4d9er14: "Yes, the media won't let us forget how selfish, and mouthy Owens is. However, this deal is low risk high reward. I'm surprised T.O stayed out of the market this long."