SportsNation Blog Archives

Jason Witten
Cowboys tight end Jason Witten has reportedly offered to sign a waiver that would allow him to play in Dallas' season opener at the Giants on Wednesday, weeks after he sustained a lacerated spleen. But according to sources, Dallas won't let Witten on the field without medical clearance, waiver or no waiver. A ruptured spleen is a potentially life-threatening injury -- just ask Chris Simms, who had his removed in postgame emergency surgery in 2006. Are the Cowboys being prudent in holding Witten out of the game? Or should he be allowed to play if he feels ready and is willing to assume the risk?
calomino: "This guy is a warrior, a pro's pro...I don't think he should play but I admire him."
spummm: "Only guy thats stopping him is Jerry Jones and thats where the list begins and ends."
crumandforster: "Admire the heart, question the brains..."
Tony2Dez: "If it's healed, what's the problem?"
New743: "We all know Witten is a gladiator. He would die on the field if he thought it would help the team win. But this is definitely a case where the coaches and doctors have to protect Witten from himself."
numbr4stuna: "Signing a waiver is admirable but to allow him to play would be counter to everything the NFL is preaching with regards to player safety."
bobbyc611: "Shut up and let him play its his body and his choice. If he wants to put himself in harms way thats his choice no one else."
Join the conversation or respond by signing in or creating a profile and blogging.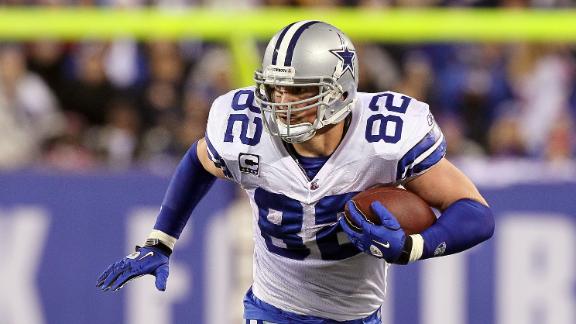 On Thursday, "First Take" debated the news that Jason Witten will not need surgery on his spleen. Witten was injured by a big hit in a recent preseason game, and though he might miss the first game of the season he should be good to go for the remaining 15. Skip Bayless feels better about picking the Cowboys to win the East with a healthy Witten (although he's still picking the Eagles), but Stephen A. Smith doesn't have confidence in Dallas this season. What's your take?