SportsNation Blog Archives

Randy Moss
On Monday, ESPN's "First Take" debated whether Randy Moss' NFL career is over. Moss tweeted "good luck" to the 49ers during the weekend, saying he wished they could have made more of their chance at the Super Bowl. Skip Bayless is a huge fan of Moss but thinks he'll have trouble getting another shot, given his subpar performance in the Super Bowl. Stephen A. Smith points to the 49ers not including Moss in much of their offensive plans as a problem. What's your take?
How does SportsNation see Super Bowl XLVII playing out? As NFL experts everywhere attempt to forecast which players will deliver big performances on football's biggest stage, we're asking SportsNation to join in on the fun. Do you think Colin Kaepernick will score a rushing touchdown? How will Ray Rice fare against the 49ers' stout defense? Will Ray Lewis do his squirrel dance when the clock hits 00:00? Cast your votes!
---
Ray, running wild
So far this postseason, Ray Rice has rushed for 247 yards and two touchdowns, including a 131-yard effort against the Broncos.

---
Can't catch Kap!
Colin Kaepernick is fast ... really fast. In two postseason starts, he has burned teams for 202 yards and two rushing TDs.

---
Not your average Joe
Don't call him Fluke-O anymore. In this postseason, Joe Flacco has thrown eight touchdown passes and no interceptions.

---
Moss on the mike
Randy Moss made it clear that he considers himself the GOAT, but he's been an afterthought in the 49ers' offensive system this season with only 28 catches.

---
Lewis' last ride
Since his incredible return Jan. 6 from a torn triceps injury, Ray Lewis has averaged more than 14 tackles/assists per game.

Tags:

Baltimore Ravens, San Francisco 49ers, Ray Lewis, Joe Flacco, Ray Rice, Colin Kaepernick, Randy Moss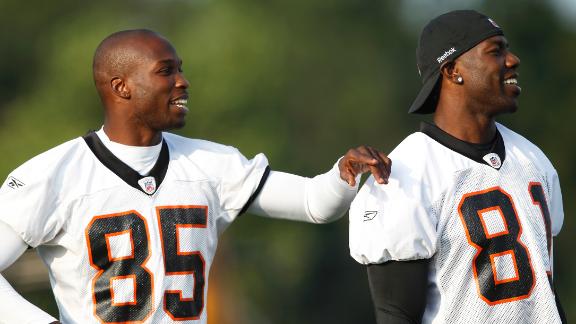 On Thurday, "First Take" debated which new wide receiver will have the biggest impact on his new team. Randy Moss, Terrell Owens and Chad Johnson have either struggled of late or been out of football entirely, but they're all looking to recapture their talent this season. Christian Fauria thinks Moss will make the 49ers real contenders, but Skip Bayless isn't so sure -- he has Chad Johnson as his sleeper pick. What's your take?
Tags:

NFL, Miami Dolphins, San Francisco 49ers, Seattle Seahawks, Chad Johnson, Randy Moss, Terrell Owens