SportsNation Blog Archives

Rex Grossman
The Rex Grossman era, such as it was, appears to be over in Washington. Coach Mike Shanahan has decided to start John Beck in place of Grossman. The 30-year-old Beck is a career journeyman, but Grossman seems to have reverted to his reckless gunslinging ways. With the Redskins at 3-2 and still in contention for the NFC East title, it may not be the right time to wait for Grossman to figure it out all over again.
More polls: Are the Redskins playoff-bound with Beck? Is Grossman done?
---
Right decision?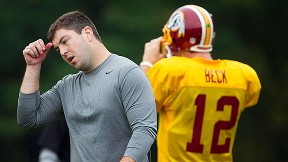 Rex Grossman played admirably for the first few games of this season, but his Total QBR has plummeted in recent weeks.

SportsCenter anchor Robert Flores is among those blogging in SportsNation, and he's turned his attention to the penalties handed down to the University of Alabama football program (he's also talking about Rex Grossman joining the Texans, which to our way of thinking could be considered a self-imposed penalty on the part of the NFL franchise). The NCAA ruled the Crimson Tide will have to vacate 21 wins in which players who improperly obtained free textbooks participated, but the program won't lose any scholarships.
A plurality of SportsNation feels vacating the wins is "very significant" punishment (of note, Alabama and Nebraska were the only states where it was deemed "not significant at all").
At the same time, Florida football coach Urban Meyer is defending his program against a total of 24 arrests since 2005, and USC is finally commenting on investigations of wrongdoing affecting both its football and basketball programs.
Summer can't come soon enough for the NCAA.
"

This is a complete slap on the wrist considering Alabama was ON PROBATION when this happened. Guess the NCAA doesnt want to taint the image of a previous national contender. In other words, if your team is good enough, it's okay to do crap like this, but if you're not - here comes loss of scholarships and post-season bans. What a joke

"

-- mstatedog08
"

Every school does this. Its sad that people actually think Alabama deserves worse but they wouldnt say that if it were there school.Its almost an entire coaching staff and im sure the players that participated are either getting ready to graduate or already have.Why punish current students athletes for something they had no part in.

"

-- FINALBBQ