SportsNation Blog Archives

Brian Stann
---
Silva vs. Gustafsson
Alexander Gustafsson and Thiago Silva make their living primarily as strikers, although Brett Okamoto thinks this match could be decided on the ground.

---
Stann vs. Sakara
Alessio Sakara is making his comeback in this match after being sidelined for a year. Brian Stann is looking to get back on track after a loss to Chael Sonnen

---
Thiago vs. Bahadurzada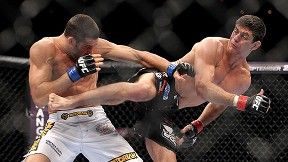 Both Paulo Thiago and Siyar Bahadurzada are coming off wins, although Bahadurzada hasn't fought since mid-May of last year.

---
Siver vs.Nunes
Dennis Siver lost by submission to Donald Cerrone in his last matchup, while Diego Nunes managed a decision over Manvel Gamburyan.

---
Page vs. Pickett
Brad Pickett and Damacio Page will be fighting to reverse bad trends -- Pickett lost his last match to Renan Barao, while Page is on a two-match losing streak.

Everyone loves trilogies -- Hollywood, the gaming industry, booksellers -- and UFC is no exception. Frankie Edgar and Gray Maynard will face off for the third time at UFC 136, in a rivalry that saw Maynard beat Edgar once and both fighters fighting each other to a standstill the second time. Edgar's loss to Maynard is the only blemish on his résumé, one that he'll no doubt seek to avenge this weekend. Can he pull it off?
Vote: Which fighters will win each matchup?
"Frankie is very well-rounded martial artist, and I believe he's going to retain his championship belt. Gray Maynard is a one dimensional fighter, but hes always a competitive fighter. The fight will be determined by heart and perseverance. " -- SN commenter MMAINSIDER
---
Edgar v. Maynard
Frankie Edgar: 13-1-1
Gray Maynard: 10-0-1