SportsNation Blog Archives

NCW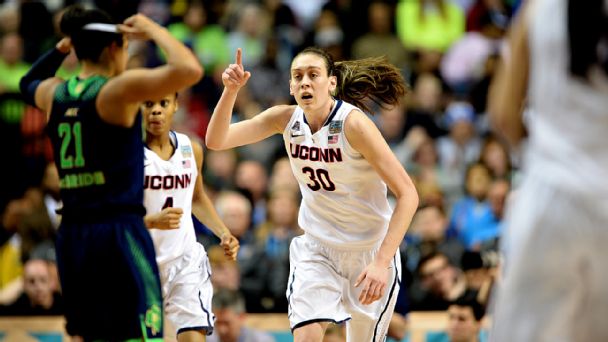 Allen Kee/ESPN Images
UConn women win record 9th title
One night after the Connecticut men's basketball team claimed an improbable national championship, the women did what most expected: They set the record for most titles, beating Notre Dame 79-58 for their ninth NCAA tournament triumph. The Fighting Irish were clearly hurt by the absence of injured star Natalie Achonwa. Would she have changed things versus the also-undefeated Huskies? Is Geno Auriemma the best women's basketball coach of all time?
AP Photo

UConn-Notre Dame for women's title

And here we have it: the undefeated matchup many expected, with Connecticut (39-0) and Notre Dame (37-0) squaring off Tuesday in Nashville for the women's NCAA tournament title. The Huskies are the unanimous AP No. 1 and vying for their record ninth title. The Fighting Irish are No. 2 and without one of their best players (Natalie Achonwa). Still, Notre Dame cruised past Maryland in their Final Four game, while UConn had a bit more trouble against Stanford in theirs. What will happen on Tuesday?

Women's Final Four predictions?

The women's Final Four is set, and -- surprise! -- undefeated Connecticut and Notre Dame made it to Nashville. The other two teams were not No. 1 seeds: No. 2 Stanford won on its home floor, while No. 4 Maryland beat host/No. 3 Louisville. Can either keep the unbeatens from an epic final? Will Notre Dame overcome the loss of Natalie Achonwa? Cast your votes below!