SportsNation Blog Archives

Troy Polamalu
Steelers to keep Polamalu
Loyalty usually isn't a two-way street in professional sports, but the case of Troy Polamalu and the Steelers may be an exception to that rule. Despite needing to create salary-cap space, the Steelers will not release Polamalu, citing the Rooney family's loyalty to the veteran safety. Polamalu has essentially been the face (and hair) of the Steelers' franchise since being drafted in 2003, and imagining him in a uniform other than Steelers black and gold is almost unthinkable. His production has been declining, however, and given that he'll be 33 this season, the Steelers might end up regretting their otherwise-admirable allegiance to one of their all-time greats.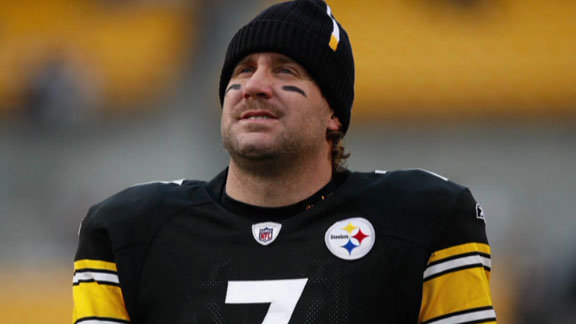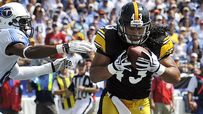 The Steelers are 3-1 to start the season, despite playing everyone this side of Bubby Brister and Mike Tomczak at quarterback while waiting for Ben Roethlisberger's suspension to run its course. Considering they didn't fare nearly as well during Troy Polamalu's extended injury absence last season, is it fair to suggest that the guy with the famous hair is the most valuable player on what the experts (and SportsNation) rank as the league's No. 1 team?
And if all of that is true, well, shouldn't Polamalu be in the MVP debate?
"If you subscribe to the "Troy's injury is the sole reason we didn't win last year" mentality, then yes. I, personally think that it was a 3-fold problem. 1) Polamalu's injury 2) Loss of Bryant McFadden without a suitable replacement 3) Aaron Smith's injury. We lost a key player at all three levels of the defense, and THAT is why the defense failed to produce last year. People need to stop saying that it was all because of Troy.'" -- SN commenter aj42na77
"Troy brings another dimension to the game. He has defined the way the position should be played. The true trick is finding another player that can bring all the things to the field that Troy does. We may never see anyone play the position this way again. Its been a real treat watching him perform during his career.'" -- SN commenter SteelBeam00
kardfan (illinois)
Mort: all things being equall...who's the best player in the N.F.L?
Chris Mortensen
Peyton Manning... Troy Polamalu there, too. I'm basing it on current play and history. There's about 10 guys I could mention, almost evenly split among offense and defense. Full transcript
Omar (Baltimore)
You like Polamalu more than Patrick Willis, DeMarcus Ware, and Nmandi Asomugha?
Chris Mortensen
See, that's like splitting hairs and Troy has more hair! But, yes, I think Polamalu impacts run and pass defense for Steelers. Those others are all great, all part of that mention of saying there are 10 players we could debate and it's fairly split among offense and defense. Full transcript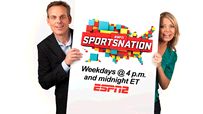 Colin Cowherd and Michelle Beadle plan to duck any objects thrown at them during "SportsNation" TV.
Argue the hot topics, vote on the biggest stories and chat during the show on ESPN2 at 4 p.m. and midnight ET.
Note: Broadcast voting results as of afternoon ET.

Would you turn in a fellow fan?
The Cubs and Shane Victorino are going after the fan who tossed beer on the outfielder while he was trying to make a catch.
Did Azteca Stadium contribute to Mexico's win?
The raucous crowd sure enjoyed the 2-1 win. The U.S. has never won there. At this point, it's no longer a talent gap. Maybe it's the fans.
Do you love having a fast QB on your team?
Terrelle Pryor and other mobile quarterbacks provide an advantage that teams such as West Virginia and Texas have used quite well in recent years.

Who's more likely to catch the Madden Curse?
Is Troy Polamalu or Larry Fitzgerald destined to spend part of the season on the sidelines, or is all this curse talk a bunch of nonsense?
Which is the better comeback this season?
Will video-game Michael Vick or (as yet unsigned) real-life Michael Vick be more explosive and exciting on the field this season?
What is "SportsNation" TV, and how do you make your voice heard? Read about the new ESPN show that features fan opinions with calls, tweets, polls, rankers and more.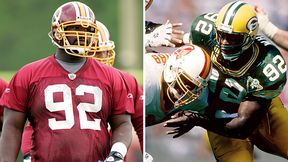 When a player who signed for $41 million in guaranteed money earlier in the year is sitting out practices and talking about normal "wear and tear" during the first week of August, well, it's not the kind of thing that will help comparisons to Reggie White. But Albert Haynesworth returned to practice earlier this week after sitting out a few rounds of training camp, averting the kind of health-care crisis that would capture D.C.'s attention more than anything on Capitol Hill.
Aside from Clinton Portis, Haynesworth is the player SportsNation feels the Redskins could least afford to lose to serious injury, no small feat of public recognition for a guy who plays on the defensive line. But if Haynesworth is the Redskins' best defensive player, is he the league's best defensive player? He's not a pure pass-rushing force like DeMarcus Ware, or a shut-down corner like Nnamdi Asomugha, but it's tough to put a guy who closes down the middle of the line anywhere other than No. 1.
"

Haynesworth is a Beast.. I don't know if I've seen one Person make such a diffeence on the defensive side of the ball, since Reggie White.

"

-- galyssa427
"

you guys paid way to much for big al watch out he's going to get injuryed right away.

"

-- titans_freak23