SportsNation Blog Archives

Ernie Els
Ernie Els recovered from a six-shot deficit in the final round of the Open Championship to win his fourth career major, his first since 2007. But was his comeback victory a bigger story than Adam Scott letting a four-shot lead slip away?
IvanMilat: "Not as bad as van de Velde in 1999, but this Open will still be remembered more for Scott's collapse than for Els winning it. Kudos to Ernie for a fantastic finish, but Scott had all the chances. I hope he bounces back..."
ericbtsai: "As much as Ernie Els earned this major, Adam Scott just withered in the back nine and gave it away. I guess there is a difference between a tournament winner and a Major winner. Congrats, Easy!!"
Mongoose268: "Gut-wrenching to watch. Such solid play all through the tournament. Congrats to Ernie, though. On a day when the rest of the leaderboard was getting pushed around by the course, he beat the other players and Lytham."
kb24yesir: "glad to see Ernie Els get a win...but you have to really feel for Scott. Terrible."
8623dave: "The best part of Els win, though, was when he said he's going to see Mandela, and have a drink with him out of the Claret Jug; that was nice of him"



Join the conversation or respond by signing in or creating a profile and blogging.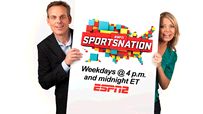 Michelle Beadle and Colin Cowherd always shake hands before stepping on the set of "SportsNation" TV.
Argue the hot topics of the day and vote on the biggest stories from the world of sports. The show airs on ESPNEWS at 4 p.m. and ESPN2 at midnight ET.
Note: Broadcast voting results as of this afternoon (ET).
Would you let Shaq spank you on your birthday?
In a hands-on interview, Shaq administered the birthday spanking for radio host "Money" from the "Petros & Money Show."

Should LeGarrette Blount be kicked off the Oregon football team?
Replays of the Oregon running back's punching Boise State linebacker Byron Hout after the Ducks' loss will be shown all season.
Are the Eagles too consumed with Michael Vick?
He'll be eligible in Week 3. In his final preseason game, Vick ran for a 2-yard touchdown, was sacked four times, lost a fumble and was intercepted.
Should Oklahoma State and Georgia shake hands before their football game?
The Cowboys won't have a team handshake with the Bulldogs, citing concerns about incidents that might erupt during the display of sportsmanship.
What do you think of Tiger Woods' criticism of Ernie Els?
Els said he had a three-year plan for dethroning Tiger but hasn't won in his past 41 tournaments. Tiger said his opponent hasn't worked hard enough.
What is "SportsNation" TV, and how do you make your voice heard? Read about the new ESPN show that features fan opinions with calls, tweets, polls, rankers and more.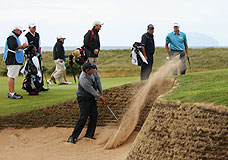 Whether you call it the Open Championship, the British Open, or the thing with all the gorse, the oldest major in golf is back. And so is the man who may eventually hold more major titles than anyone since the first Scot grabbed a niblick and knocked his feathery stiff (that last sentence was actually suitable for family consumption, believe it or not).
Tiger Woods is back after a year's injury-induced hiatus from the British Open, and the tournament is back at Turnberry in Scotland for the first time since before he turned pro.
Not surprisingly, Woods is SportsNation's favorite against the field, although the close call in voting is more evidence we're not convinced he's as good as ever after knee surgery.
But Woods is not the only new face at the top of the expectations leaderboard. SportsNation's top five for last year's tournament went as follows: Sergio Garcia, Phil Mickelson, Ernie Els, Adam Scott and Jim Furyk. Mickelson is absent for family reasons, but of the other four, only Furyk remains in the 'Nation's early top five this year.
"

I have a hard time calling [Tiger's first-round playing partner] Ishi a "phenom." He's been nothing exciting on the PGA Tour ... Winning on the Japan Tour is nice, but it's still the Japan Tour. I wish it was Tiger, Paul Casey, and Rory Mcilroy ... That'd be an exciting group. With this grouping ... I see Westwood shooting average rounds, Ryo missing the cut, and Tiger playing great.

"

-- JETsrunway
"

[Wojciechowski's] article describes how I feel about the Open. The history, the quirkiness, the weather ... it the ultimate experience for a golf nut like myself. I look forward to the day when I can see the Open Championship in person.

"

-- RoMizzou