SportsNation Blog Archives

Sergio Garcia
The U.S. Open begins Thursday, with golfers facing an unusual test: the Merion Golf Club East Course, which has not hosted the tournament since 1981, and whose 6,996 yards make for the first sub-7,000 Open since 2004. Adding another twist is the weather; heavy rains suspended practice earlier in the week, and the course is expected to be especially soft when players tee off. Tiger Woods will look to resume his pursuit of Jack Nicklaus' all-time majors record at this U.S. Open, but whether he rises above the muck or gets bogged down in it remains to be seen.
---
Win for Woods?
He's without a major victory since the 2008 U.S. Open, but Tiger Woods already has four wins in 2013. The streak must end sometime ... right?

---
Red-eye
Phil Mickelson reportedly will attend his daughter's eighth-grade graduation Wednesday in San Diego, then fly back overnight to make his tee time early on Thursday morning.

---
Remember me?
Tiger Woods and caddie Steve Williams -- yeah, they've got history, both good and bad. And they're paired together, so to speak, as Williams' new employer (Masters champ Adam Scott) will play at least two days with Woods.

---
The breakthrough?
Memorial champion Matt Kuchar enters the week ranked fourth in the world -- but he's never won a major. Same for Justin Rose (fifth), Luke Donald (sixth), Brandt Snedeker (seventh) and the long-suffering Sergio Garcia (15th).

---
Sergio struggles?
First came his feud with Tiger Woods at The Players Championship, then an inflammatory comment about Woods shortly after. Will Sergio Garcia be able to put the controversy behind him?

---
Going low?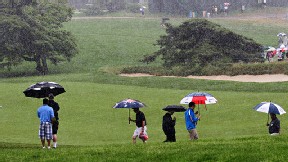 More than five inches of rain has fallen on Merion recently, softening the course and making it ripe for low numbers.

People make fun of golfers for requiring funereal silence before every shot. It's understandable, in a way -- baseball players have to hit balls moving at a hundred miles an hour while everyone in the stadium is screaming invective at them -- but it misses the point. A sudden noise will break anyone's concentration, which is why Sergio Garcia was upset at Tiger Woods for allegedly causing a distraction during The Players Championship. Woods says he had permission from course marshals to remove a club from his bag, prompting a crowd reaction that Garcia said distracted him. The marshals recall no such permission, which might have been an actual issue had this been brought up on Sunday. As it is now, it's an interesting postscript to Tiger's win and Garcia's collapse.
pmudduck: "He didn't hit while Sergio was hitting, he didn't even address the ball while Sergio was hitting...he PULLED A CLUB, BEFORE Sergio hit...from the other side of the fairway!"
HardcoreRocker97: "The crowd reacted loudly to when tiger pulled out the wood from his bag. He pulled it out right in sergio's back swing. These crowds are starting to get really annoying. "
giofls8761: "The video clearly shows that a marshal's hand went up near Tiger, which he likely interpreted as a quiet signal to the crowd and that he was ready to play. He couldn't see Garcia from where he was in the woods. So, no, Tiger never asked the marshal anything, he went by the signal. As the marshal admitted, that is what he is supposed to do -- the marshals are not supposed to talk to the players."
imsmartkid: "After Tiger won, he should have said he missed a putt on the 18th because of some loud splash he heard coming from 17."
NoBasketballAssociation: "The only story here is that Sergio was looking to blame someone for a horrendous shot rather than owning it. Tiger was 50 yards away when he pulled his club from his bag. No way Sergio hears that. Maybe he hears crowd noise. If so he hears it well before his swing. "
paulnatlanta: "Marshal had his hands down. Check the video. That is a clear indication to Woods that it is ok to play."
Join the conversation or respond by signing in or creating a profile and blogging.