SportsNation Blog Archives

Robert Quinn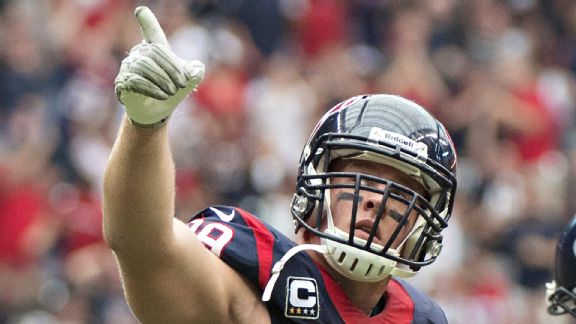 George Bridges/Getty Images
J.J. Watt's 2012 season was one for the ages -- he had 20.5 sacks and an astounding 16 passes defended as opposing quarterbacks quailed at the site of him across the line of scrimmage. His stats this season aren't quite as good, but they still place him in the running for the AP NFL Defensive Player of the Year award. Has he had a better season than the likes of Robert Mathis or Richard Sherman? Submit your rankings!


Defensive Player of the Year
Vontaze Burfict

Vontaze Burfict
Bengals LB
151 tackles, 8 passes defensed, 1 sack, 1 INT, 1 forced fumble
Lavonte David

Lavonte David
Buccaneers LB
126 tackles, 9 pass defenses, 6 sacks, 5 INTs, 2 forced fumbles
Luke Kuechly

Luke Kuechly
Panthers LB
122 tackles, 3 INTs, 2 sacks
Robert Mathis

Robert Mathis
Colts DE
49 tackles, 16.5 sacks, 6 forced fumbles
Robert Quinn

Robert Quinn
Rams DE
46 tackles, 15 sacks, 7 forced fumbles
Richard Sherman

Richard Sherman
Seahawks CB
34 tackles, 6 INTs
Earl Thomas

Earl Thomas
Seahawks FS
93 tackles, 5 INTs, 2 forced fumbles
J.J. Watt

J.J. Watt
Texans DE
69 tackles, 9.5 sacks, 6 pass defenses, 3 forced fumbles
Your Rankings
1.

2.

3.

4.

5.

6.

7.

8.