SportsNation Blog Archives

Julius Peppers
Julius Peppers is reportedly in Chicago today, and we assume he's not just craving pizza.
The Bears have agreed to terms with tight end Brandon Manumaleuna, and that may just be the start. As Pat Yasinskas blogs, the Bears don't want to let Peppers conclude his official visit to the Windy City without putting his name to a contract. Frankly, there's not much argument about Peppers as the prize of this year's free-agent class -- out of the first 3,884 people to submit their free-agent rankings, 2,923 put Peppers on top of their list. And for a Bears team without much in the way of draft picks this year, that would be the next best thing to cloning Mike Singletary and Richard Dent.
But as NFC North blogger Kevin Seifert adds, it's not just Peppers who may be headed to Chicago if former Vikings running back Chester Taylor joins the influx. So are the Bears on the verge of putting together a contender, or a year after making a risky play for Jay Cutler, are they on the verge of passing the Redskins as the most foolish spenders in football?
Ben (Baton Rouge, La)
Would the Bears be making a mistake to sign Peppers to a lucrative deal? Similar to what they did in getting Cutler, i.e., a bust?
Matt Williamson

I am still behind the Cutler deal btw. But, they need a lot and don't have the draft picks to get the horses they need this year. And...the decision makers there are on the hot seat. And without horses, we all know what will befall the Bears' decision makers. Put your houses up for sale. So...you overspend and do things that you usually wouldn't. But, I do like the fit. Let Marinelli coach him up. Full transcript
Sam (Syracuse, NY)
I believe getting Peppers is do or die for Smith and Angelo. Without him next year will be more of the same unless Melton and Gilbert become great pass rushers. I don't see Tommie Harris ever recovering to be what he once was. I think Martz will help the offense, but if the defense is the same then it will be another dissapointing season. What do yo think?
NFC North Kevin Seifert

I would put it this way: Peppers is one of the few legitimate opportunities the Bears have to immediately improve their personnel for 2010. Full transcript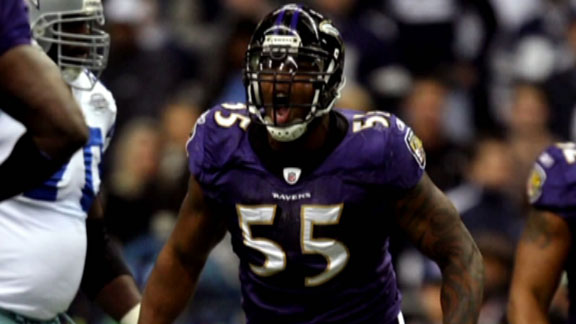 If you're going to sign a guy to a six-year, $63 million contract, do it the day after a team gave the same contract to a quarterback who never started a game in college.
A moral of limited use in your everyday life? Perhaps, but that's apparently the lesson SportsNation is offering in the wake of the Ravens' keeping pass-rusher extraordinaire Terrell Suggs in the fold for the next six seasons (hypothetically, at least, given the nature of NFL contracts; let's just say voters aren't sure he'll be around in 2015).
But if the 'Nation thinks Suggs is a safer investment than Matt Cassel, does it mean he's one of the best pass-rushers in the NFL? Because if that's the only qualification, Citibank might be one of the NFL's best pass-rushers.
"

D. Ware is smiling from ear to ear right now. He should send Suggs a thank you card.

"

-- Ashy-Larry
"

That's a lot of pressure to perform. You know the more you earn the more the company and people expect from you, except if you're a CEO of a company that deals with mortgages, stocks, or any other financial institution.

"

-- sfirx