SportsNation Blog Archives

Stipe Miocic
Heavyweights are the main attraction for UFC 146 in Las Vegas on Saturday night, where new UFC heavyweight champ Junior dos Santos will put his belt on the line for the first time against Frank Mir. The man dos Santos beat for the title, Cain Velasquez, is also on the card and faces a tough assignment in Antonio "Bigfoot" Silva.
---
Dos Santos vs. Mir
Junior dos Santos hopes his first UFC heavyweight title defense leads to many more. But Frank Mir is confident he can earn a quick win.

---
Velasquez vs. Silva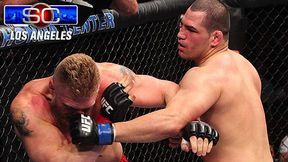 Ex-UFC heavyweight champ Cain Velasquez, right, wants to regain the heavyweight belt he lost to dos Santos. His road back starts with a tough test in Antonio "Bigfoot" Silva.

---
Nelson vs. Herman
Roy Nelson was previously scheduled to face two other fighters before drawing Dave Herman. Both heavyweights are looking to rebound from losses.

---
Miocic vs. Del Rosario
Stipe Miocic, right, and Shane Del Rosario are both undefeated. That may change Saturday.

---
Struve vs. Johnson
Stefan Struve, right, enters his heavyweight bout with Lavar Johnson on a two-fight win streak.