SportsNation Blog Archives

David West
Steve Spurrier might just be messing with Nick Saban, but his belief that Alabama potentially could beat some NFL teams is being taken somewhat seriously. After all, watching the Crimson Tide dismantle opponents week after week could lead one to believe that against say, the Jaguars or Chiefs, they'd have at least a fighting chance. If Alabama's stifling defense could do it (and we're not saying it could), what about Oregon's up-tempo offense? Would it be more of a realistic prospect in a battle between a college basketball team and the worst NBA team?
---
Alabama's chances?
Alabama is allowing 8.1 points per game this season, the best mark in all of college football ...

---
Oregon's chances?
... but Oregon is putting up 53.4 points per game, also the best in college football.

---
Indiana's chances?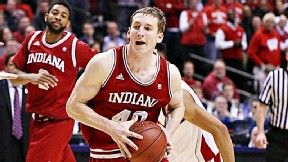 The Hoosiers are on top of the preseason rankings, but could they hang with a team even as bad as last year's Hornets?

---
Which matchup would you watch?
Pete Carroll has seen both the college and pro games up close, and he thinks it wouldn't even be a contest. Still, it might be fun to watch.