SportsNation Blog Archives

Carmelo Anthony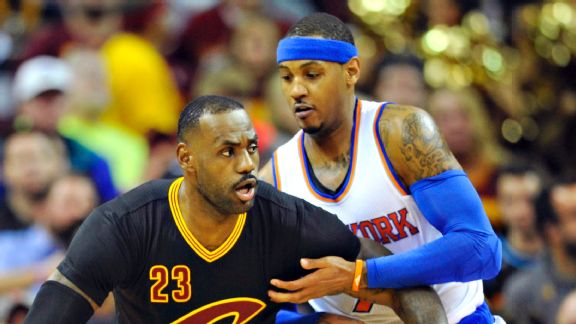 David Richard/USA TODAY Sports
Carmelo Anthony started to get a little wistful Wednesday morning while talking about ex-teammates Iman Shumpert and J.R. Smith.
"It seems like LeBron [James] took all my family from me," he said hours before the Knicks-Cavs game.
It was a funny line in a light-hearted moment from Anthony.
But he has a genuine bond with Shumpert and Smith, who were traded to James' Cavaliers last January.
Anthony watched both players -- and his buddy LeBron -- with the pride of an older brother during the NBA Finals last season.
"It was more kind of [like] seeing your family out there than anything," he said. "I didn't watch it kind of from a competitive standpoint. I watched two guys -- J.R., I've known him, I've been with him for almost 10 years; Shump is a guy who came in and was kind of a little brother to me; and of course LeBron, who I've been with, kind of connected to since high school. So to see all three of those guys competing at that level, it was more watching my family out there."