SportsNation Blog Archives

Dwyane Wade
Mario Chalmers might not be on the Miami Heat anymore, but that doesn't mean the guard -- traded last week to the Memphis Grizzlies after seven seasons and two titles in South Florida -- is forgotten.
Look at Monday night. Chalmers broke out (29 points on 13 shots in 23 minutes of a 122-114 win over the Oklahoma City Thunder), and after a big 3-pointer, Dwyane Wade chimed in, unprompted, on Twitter.
Rioooooooooo!!!!!!

— DWade (@DwyaneWade) November 17, 2015
Then, proving he wasn't just having a good time watching an animated movie about macaws with his kids, Wade sent this one out after the game:
Proud big bro iam. @mchalmers15 way to take that champion swagger to Memphis lil bro..

— DWade (@DwyaneWade) November 17, 2015
Teammates for life.
If you're excited for the 2015-16 NBA season, which started Tuesday night when the Chicago Bulls faced (and beat) the Cleveland Cavaliers, you aren't alone. NBA players were a little jazzed as well and tweeted just like you and me.
Take Dwyane Wade, for instance:
All right, we don't all get to take photos with Taylor Swift holding up our team's jersey. But a lot of NBA players did share their happiness at the return of basketball.
Mannnn, the season is HERE!! Excited to watch these games!

— Jamal Crawford (@JCrossover) October 27, 2015
I missed you NBA

— rudy gobert (@rudygobert27) October 28, 2015
NBA is back !

— Nicolas Batum (@nicolas88batum) October 28, 2015
NBA IS BACK!!!!!

— Omri Casspi (@Casspi18) October 28, 2015
Tis' the season .. @NBA back!!

— Maurice Harkless (@moe_harkless) October 27, 2015
The world is a better place with NBA Basketball on TV!

— Nik Stauskas (@NStauskas11) October 27, 2015
Carmelo Anthony? You know he was pumped to watch some basketb -- oh come on, New York Knicks. You had to make Tuesday night movie night?
#Spectre @007 movie night with the team @NYKnicks #StayMe7o

— Carmelo Anthony (@carmeloanthony) October 28, 2015
Game on.
While they were both with the Miami Heat, Dwyane Wade and LeBron James -- like many teammates throughout the league do -- created their share of elaborate handshakes.
Even though LeBron is gone, Wade hasn't stopped with these creative displays of dap. He doesn't restrict them to the basketball court, either.
As revealed by actress Gabrielle Union on a recent "Conan" appearance (and briefly seen in their full wedding video released in September) she and her husband punctuated their nuptials with a handshake of their own:
As a bonus, Union revealed to Conan O'Brien that Chris Bosh is basically Kramer to Wade and Union's Jerry Seinfeld, all because the couple have a "Ms. Pac-Man" game in their house.
"He's addicted," Union said. "He lives a few doors down, and like 2 a.m. [the doorbell will ring and I'll say], 'Is it Chris? ... Is it Chris Bosh?' ... He'll be at the front door, wanting in, to get on the game."
No word on if Bosh punctuates his visits with this handshake.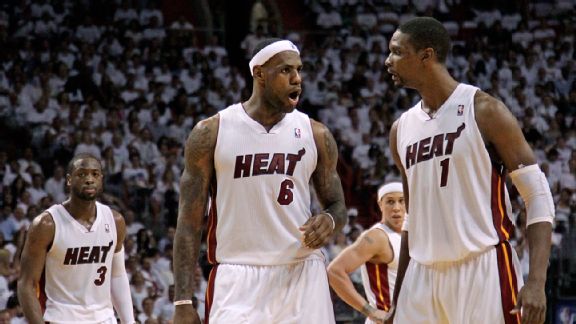 Al Diaz/Miami Herald/Getty Images
According to a source, Dwyane Wade has decided not to pick up his option with the Miami Heat for 2015-16, thus becoming a free agent.
This is a big move for the man who inspired "Wade County," and money supposedly is behind it. Wade stood to make $16.1 million next season, but he is said to want a three-year deal with an average salary of at least $16 million. The Heat, meanwhile, prefer to maintain future flexibility.
Wade is no longer the player he once was; his play, while still very good, has fallen off, and he has missed at least 20 regular-season games in three of the past four seasons.
Still, Wade surely knows he's an 11-time All-Star, won the 2006 NBA Finals MVP for what former ESPN analyst John Hollinger called the best Finals performance of all time ... and yet, he has never been the highest-paid player on his own team.
Per ESPN Stats & Info:
Will Wade buck this trend? That's to be seen. If he stays with the Heat, he'll once again be behind Bosh (due about $22.2 million next season). But as 2015 free agency begins, more than half the league is without a player who makes $16 million per year.
So it's possible ...
This year's NBA Finals matchup is a noteworthy one. Sure, the four-time MVP is facing off with the 2015 MVP, but that's not why this series is particularly important.
This year marks the first time the Finals haven't featured Tim Duncan, Kobe Bryant or Dwyane Wade since 1998. That was a long time ago ... 17 years to be exact. Do you remember what the world was like then? Allow us to remind you:
Furby was the hot toy on the market. Yeah, that creepy furry creature that undoubtedly gave you nightmares. Still terrifying.
Yvonne Hemsey/Getty Images
Google was founded. There was life before Google search? People used books to look up information? What a concept.
Mark McGwire and Sammy Sosa broke the home run record. McGwire finished the season with 70 home runs and Sosa finished with 66, both besting the record previously set by Roger Maris.
Vincent Laforet / Staff
Britney Spears' first single "... Baby One More Time" was released. As if every teenybopper didn't try to learn the choreography from her music video.
L. Busacca / Getty Images
Paul Pierce, Vince Carter and Dirk Nowitzki hadn't been drafted yet. Michael Olowokandi was drafted in the coveted No. 1 spot of the 1998 NBA Draft ahead of these guys. How bizarre.
"Armageddon" was a box-office hit. With this movie came Aerosmith's "I Don't Want To Miss A Thing" which quickly climbed to the top of the Billboard Hot 100. Bruce Willis, Ben Affleck and outer space ... enough said.
Touchstone/Getty Images
"Dawson's Creek" made its television debut. Before there was "The O.C." there were the trials and tribulations of Dawson Leery. Joey and Dawson forever!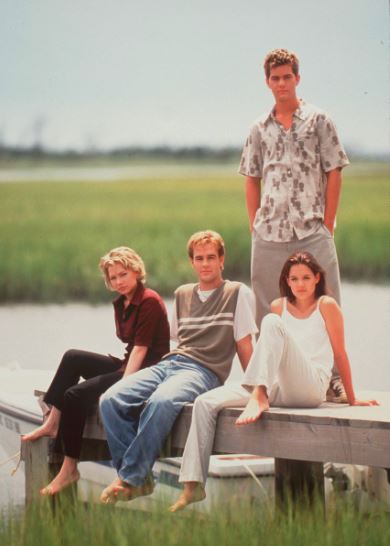 Getty Images