SportsNation Blog Archives

NBA
By
Adam S. Reisinger
| ESPN.com
Getty ImagesIs Warriors guard Stephen Curry secretly Taylor Swift's muse ... or is it the other way around?
After the Golden State Warriors beat the Brooklyn Nets on Sunday to improve to 22-0 -- the best start in major pro sports history -- the team sent out this tweet.
i don't know about you, but i'm feelin' 22-0 pic.twitter.com/XQbywd4qCO

— Golden St. Warriors (@warriors) December 7, 2015
Perfect.
But as it turns out, "22" is far from the only Taylor Swift song that applies to the Warriors' season. A quick scroll through her catalog reveals that the seven-time Grammy Award winner has been singing about Golden State for years.
"Blank Space"
There's one of these for the list of teams who've beaten the Warriors this season. Which team will be the first to fill it?
"Wildest Dreams"
BPI gives Golden State a 31 percent chance of winning a record 73 games, but no reasonable chance of going 82-0, which means an unbeaten season will likely remain only in the Warriors' wildest dreams.
"Bad Blood"
This is exactly what the Warriors have with the Clippers. The back-and-forth ramped up this summer, when Clippers coach Doc Rivers implied Golden State was "lucky" it didn't have to face his team or San Antonio in last season's playoffs. Then again, maybe Doc is just more of a Britney Spears fan and was referencing one of her hits.
"Treacherous"
How else to describe the Warriors' super-small closing lineup? Golden State is outscoring opponents by 91 points in 64 minutes with Draymond Green, Andre Iguodala, Harrison Barnes, Klay Thompson and Stephen Curry sharing the floor.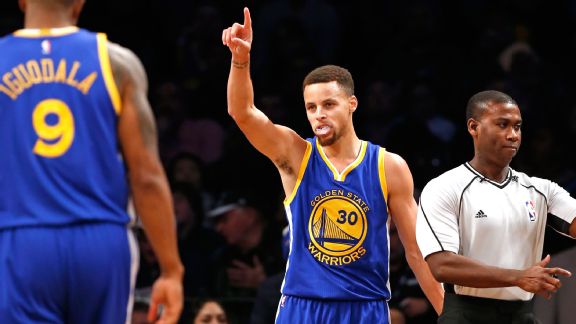 AP Photo/Kathy WillensWelcome to New York ... where the Warriors beat the Nets by 16 to improve to 22-0.

"The Last Time"
Game 3 of the 2015 Finals was the last time the Warriors lost a game of consequence. To find their last regular-season loss, you have to go back to April 7 against the Pelicans.
"I Almost Do"
This is what the Nets must be saying about having a win over the Warriors. Brooklyn had a shot to beat Golden State, but Brook Lopez missed at the buzzer and the Warriors went on to win in overtime. Still, the Nets are the only team to hold the Warriors under 100 points in regulation this season.
"We Are Never Ever Getting Back Together"
Given how well the Warriors have played in his absence, coach Steve Kerr is probably hoping they aren't singing this about him. But officially, Golden State's 22-0 record belongs to Kerr, while interim coach Luke Walton became the first winless coach to earn NBA Coach of the Month honors, leaving him telling Kerr "All You Had To Do Was Stay."
"Fifteen"
Swift's first numeric song title happens to be the exact number of games the Warriors lost in the 2014-15 regular season and the number of games they've lost since Jan. 1, including the playoffs. Swift never recorded a "Sixteen," and the Warriors are hoping they don't record a 16th loss any time soon.
"Fearless"
This is the perfect description of Curry's game. Just ask Kerr, who said after the Warriors' Game 3 win over the Pelicans in last season's playoffs: "His confidence level is just off the charts. He's fearless. He wants every big shot." And that was before Curry lit the league on fire by averaging 32.4 PPG in Golden State's 22-0 start.
"The Outside"
This song off Swift's debut accurately describes where on the court Golden State does the most damage. The Warriors lead the NBA, shooting 43.7 percent from 3-point range and averaging 13.5 3-pointers per game, three more than the next-most prolific team.
By
Adam S Reisinger
| ESPN.com
When the Chicago Bulls host the Charlotte Hornets tonight, Pau Gasol will become the 116th player in NBA history to play 1,000 games, and he wanted to celebrate the milestone with his 3.25 million Twitter followers.
Today I'll be playing my 1000 #RegularSeason game & I wanna celebrate with you! Upload a video with your favorite play of the ones I've made

— Pau Gasol (@paugasol) December 5, 2015
... in any regular season game. You can be as creative as you like... There's a prize for the best video! Use #Pau1000

— Pau Gasol (@paugasol) December 5, 2015
Dallas Mavericks big man Dirk Nowitzki -- who is 20th all-time in games played, and who battled Gasol in multiple playoff series -- quickly chimed in with a suggestion for Pau.
@paugasol https://t.co/2Nm49A8B1i #pau1000 congrats

— Dirk Nowitzki (@swish41) December 5, 2015
Wow, that's rough. That's the Twitter version of -- well, of getting dunked on, like Nikola Vucevic did to Gasol in that video.
Fortunately, the five-time All-Star took the virtual posterization in stride.
@swish41 there have been a few of those too! = Thanks for sharing mate! ===

— Pau Gasol (@paugasol) December 5, 2015
@paugasol Hahaha. My bad amigo. Let me know what prize I won....

— Dirk Nowitzki (@swish41) December 5, 2015
Tags:

Pau Gasol, Dirk Nowitzki, NBA, Dallas Mavericks, Chicago Bulls, SportsNation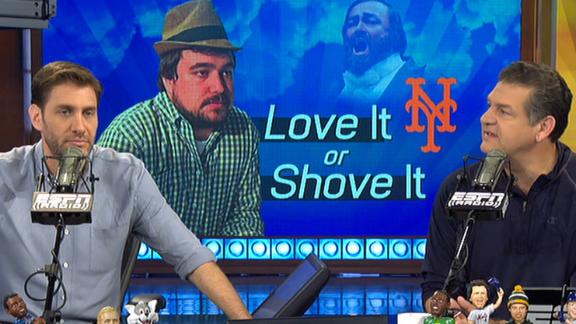 Kobe Bryant is saying goodbye. Tim Duncan isn't -- but he surely will soon. (Right?)
Both players soared over their generational counterparts and won five titles each, albeit in different ways. Kobe flashy, Duncan subdued. Kobe with mountainous highs and abyssal lows, Duncan with a steady run that makes us wonder if he can keep this up for a few more years.
But who was better? Mike and Mike discussed in the video above -- pointing out that it's very hard to choose between the two.
Now it's your turn:
Tags:

NBA, NBA, Los Angeles Lakers, Kobe Bryant, Tim Duncan, San Antonio Spurs, SportsNation