SportsNation Blog Archives

Tennis
Nick Kyrgios, the 20-year-old controversy-courting Australian, had quite an interesting match Monday at Wimbledon.
Facing Richard Gasquet in an eventual 7-5, 6-1, 6-7 (7-9), 7-6 (8-6) win for the Frenchman, Kyrgios received a code violation for swearing in the second set ... then proceeded to do the following:
null
Kyrgios went on to vehemently deny that he intentionally tanked the game, telling reporters, "Of course I tried."
That was just part of a heated exchange with journalists. As laid out by Sky Sports:
A reporter asked: "You didn't return the serves. It looked like you weren't trying, which is very unusual at Wimbledon."
Kyrgios: "Do you want to try to return Richard Gasquet's serve? I'll give you the racket and we'll see how many times you can return his serve."
Reporter: "You're a professional player -- I'm not."
Kyrgios: "He served too good."
Reporter: "You didn't even try to return it. You walked away from it. Can I get a proper explanation as to why you didn't return the serves? Not just a sort of mumbled ... one word."
Kyrgios: "How many aces did he hit that game? One? That game, did he hit one ace? Did he hit one ace?"
Reporter: "Is that an explanation? This is ridiculous."
Kyrgios could be fined $20,000 for the action.
It also wasn't Kyrgios' only odd behavior during the match. He also hugged a ball boy, because (via Sky): "I just felt like a hug, I guess. Everyone now and then wants a hug. It hurts. I expected more out of myself. I feel like I've let people down."
You can see the hug at the 15-second mark here: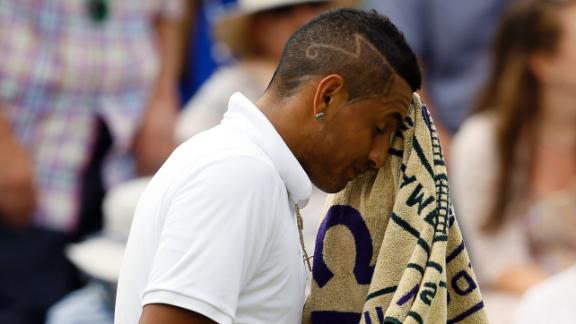 Finally, Kyrgios completed the odd trifecta by celebrating what looked like a winner ... only to have Gasquet return the shot and take the point.
Kyrgios is just 20, however, and received some advice from a once-fiery but now-maturing Andy Murray.
Said the Scot, who has mentored Kyrgios: "I'm sure, in the next few years, he'll start to maybe calm down a bit on the court and learn to use his emotions more positively, more often. Because when he uses his energy the right way, he plays some unbelievable tennis."
Dudi Sela is listed at 5-foot-9. Ivo Karlovic is listed at 6-foot-11.
So when the latter beat the former in a second-round match at the ATP World Tour's Claro Open Colombia in Bogota, the gracious-in-defeat Sela decided to congratulate the victor appropriately:
Said Karlovic, to the ATP World Tour's website: "After I won, I was going to the net to have a handshake and then I look at him and he's going back to get a chair. I didn't know what he was going to do and then he arrives and he gives me a hug, which was unbelievable and hilarious. Obviously he needed a hug, so I hugged him back."
And Sela: "We're good friends and I really like him, he's a very nice guy. I always wanted to hug him, but I didn't have the chance, and today I think was a good moment. I saw the chair and I thought it would be nice to finish the match like this with a hug, so the crowd will see it's OK."
Rafael Nadal and Stanislas Wawrinka will face off in the finals of the men's singles bracket at the Australian Open, after a somewhat anticlimactic semifinal between Nadal and Roger Federer. Between the two of them, they've got five Australian Open titles, along with a bevy of other major wins. Where are they among the all-time leaders? Take our quiz!
More games from ESPN Arcade »